Hoi An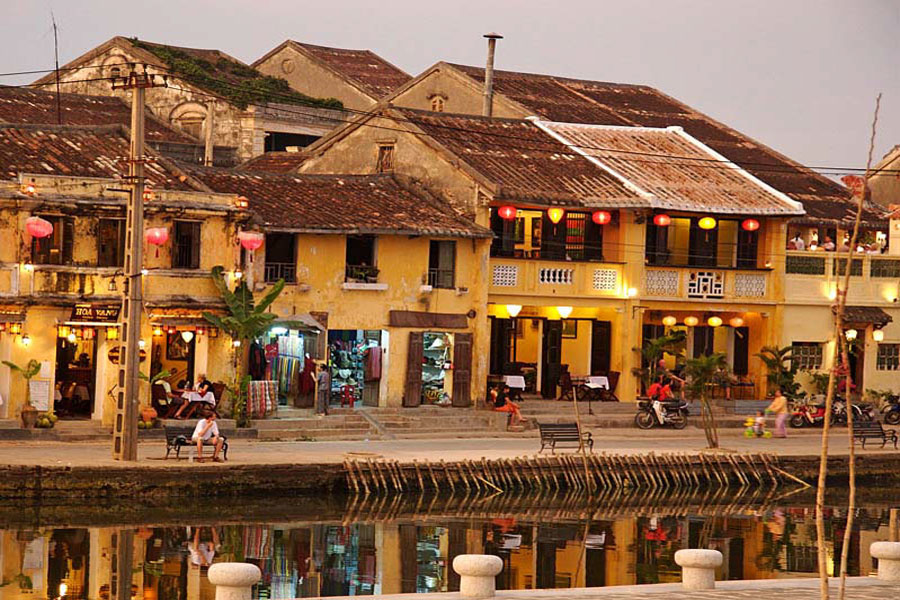 As you know, Hoi An is one of Vietnam's most popular tourist sites. Hence, this is a very peaceful and ancient city, listing on top of Vietnam's tourist map. The town of Hoi An caters to guests of all tastes and from all continents. This small hamlet is the ideal contender for the tourism ministry of Vietnam's goal of attracting people from all over the world. Furthermore, Hoi An is just a wonderful spot for relaxing by the river and viewing the sunset over the river and sea. Strolling through the ancient town while consuming cheap beer and local specialties, Hoi An is just a place for you to be. Therefore, Premium Travel Vietnam would like to tell you all about Hoi An.
HOI AN HISTORY:
Hoi An, formerly known as Fai-Fo or Faifoo, is a city in Vietnam's Qung Nam Province with a population of around 120,000 people and a UNESCO World Heritage Site since 1999.
The city's historic quarter, Old Town Hi An, is a well-preserved example of a South-East Asian commercial port dating from the 15th to the 19th century, with buildings and street plans exhibiting a unique blend of indigenous and foreign influences. The city's  "Japanese Bridge," which dates from the 16th to 17th centuries, is prominent in the city's old center.
The lovely Japanese Covered Bridge is without a doubt the city's most photographed feature. The most notable monuments in town, however, are those created by Hoi An's Chinese population. The first are the merchant houses, some of which are over 200 years old and are still occupied by the families of affluent Chinese traders. The entrances of Chinese Assembly Halls, which serve as the focal point of civic and spiritual life for an ethnic Chinese community that now makes about a quarter of Hoi An's population, are marked by chaotic confections of glazed roof tiles and writhing dragons between their somber timber façade.
Hoi An has long been a significant port in Southeast Asia's marine trade. This dates back at least to the second century BC, when people of the Sa Huynh culture traded with China and India, but it really took off in the sixteenth century, when Chinese, Japanese, and European ships sailed with the trade winds to a port called Fai Fo, whose annual spring fair drew traders from all over the world (see Fai Fo spring fair). As trade reached its peak in the seventeenth century, tax collectors arrived to fill the imperial coffers, and the town flourished with artisans, moneylenders, and administrators.
Japanese and Chinese merchants dominated commercial activities, with many settling in Fai Fo, where each hamlet had its own governor, legal code, and strong cultural identity. However, as the Japanese shogun banned foreign travel in 1639, the "Japanese street" declined to a few families, then to a scattering of monuments and a distinct architectural style. The Chinese community thrived unchallenged, and its numbers rose as new political upheavals in China led new waves of immigration to join one of the town's self-governing "congregations," which were organized around a meeting hall and a place of prayer.
Silt began to jam the Thu Bon River in the late eighteenth century, precisely as China's markets were forced open, and the port's days were numbered. Despite establishing an administrative center in Fai Fo and even building a rail link from Tourane (Da Nang), the French were unable to revive the economy, and when the rails were swept away by a storm in 1916, no one repaired them. The town, which was renamed Hoi An in 1954, survived damage during both the French and American wars and has a rather ancient feel about it.
WHAT TO DO IN HOI AN?
The Old Town of Hoi An:
Hoi An is a historic town in Quang Nam, Vietnam, about 30 kilometers south of Da Nang. Hoi An used to be Southeast Asia's busiest international commerce port in the 17th and 18th centuries. However, by the 19th century, Hoi An had entered a period of decline due to poor water transportation. As a result, the number of foreign ships and boats that sail through this port has reduced.
Hoi An, however, retains the old beauty and flawless integrity of an Asian commercial port as a result of this. UNESCO designated Hoi An as a global cultural heritage site in 1999. Since then, Hoi An tourism has flourished, becoming a must-see site for international visitors to Vietnam.
2. Japanese Bridge:
The Japanese Covered Bridge is a gem in Hoi An's crown. The Japan Bridge was completed in the late 16th century. A modest temple dedicated to Huyen Thien Dai De can be seen in the middle of the bridge. The bridge's roof features ornate structures and patterns that exhibit a harmonic blend of Vietnamese, Chinese, Japanese, and Western architectural influences.
Location: The bridge connects Nguyen Thi Minh Khai and Tran Phu streets to a brook that flows into the Thu Bon river.
3. My Son Sanctuary Hoi An:
My Son Hindu Sanctuary, also known as My Son Hollyland, is a UNESCO World Heritage Site located 50 kilometers from Hoi An and 90 kilometers from Da Nang. Thus, It is a magnificent example of Central Vietnam's old Champa civilization. It was an independent state from roughly the 2nd century until it was overrun by Vietnam in the 17th century. In the midst of a tropical jungle setting, the spectacular Hindu-themed ruins exhibit many exquisite stone sculptures, temples, and towers. The skilled usage of red bricks, particularly sandstone, may be seen when visiting the My Son Champa Sculpture. Although it is not as original as it once was due to the passage of time and the destruction of most of the towers during the war. My Son Sanctuary is still a mystery and  a must-visit for those who come to Hoi An.
4. Fujian Assembly Hall:
Built around 1690 as a customary meeting hall for the Chinese ethnic group of Fujian, China to socialize within their community. But the Fujian (Phuc Kien) Assembly Hall was eventually changed into a temple dedicated to their deity Thien Hau — the goddess of the sea who protects sailors from danger.
5. Old House Of Tan Ky:
The Tan Ky Old House was constructed around 1741. It has been the home of the Le family for seven generations. This home was used to exchange agricultural items during the time. The house is located on Nguyen Thai Hoc Street in the front and Bach Dang Street in the back, both of which face the Hoai River. At that time, Hoi An was still a thriving international trading port at the period, with many Japanese, Chinese, and Western merchant ships passing through. As a result, the house's position is ideal for exchanging items.
6. Guang Dong Assembly Hall:
The construction of the Cantonese Assembly Hall is unique in that each component was handcrafted in China, then transported by boat to Hoi An and put together in its final form. The Cantonese Assembly Hall's construction is unique in that every component was made in China. Then it was transported by ferry to Hoi An, where it was constructed into a whole shape. The Cantonese Assembly Hall is made of wood and stone and has a unique architecture in the shape of the country. The Assembly Hall is a completed structure that includes a three-door gate and a large garden with several attractive plants. This is a typical example of traditional architecture. However, in bearing constructions, a harmonic blend of different materials such as wood and stone is used. Aside from the intricate and detailed patterns, the Cantonese Assembly Hall has its own distinct qualities that are not found elsewhere.
7. Thanh Ha Terracotta Park Museum:
Located in Thanh Ha pottery village, about 3 kilometers west of Hoi An's ancient town. Thanh Ha Terracotta Park was developed in 2011 by architect Nguyen Van Nguyen, who was born and bred in the village, on a nearly 6,000 square meter plot. Traditional Vietnamese terra cotta pottery, including models of famous structures, may be found at the park.
Nam Dieu village, Creativity Workshop, Trade Promotion, Pottery Museum, and an Outdoor Exhibition Area are among the five functional areas. Each place has its own tale, which is reflected in symbolic drawings, artifacts, relics, and other items, allowing visitors to grasp the 500-year history of Thanh Ha Pottery village.
8. Tra Que Organic Vegetable Village:
Cycling about 5 kilometers from Hoi An ancient town allows you to escape the hectic metropolis in roughly 15 minutes. You will enjoy a rural setting with pleasant weather and friendly people. Tra Que is a vegetable village. Riding a bicycle is a terrific way to experience the calm and beauty of the area. Rice fields, crystal rivers, and lazy water buffaloes resting in the mud are all sights to behold.
Tra Que gives you the sensation of discovering how local farmers raise organic vegetables using traditional methods. You can also do it as a local farmer right here in this town.
9. Bay Mau Water Coconut Forest:
The Bay Mau Water Coconut forest allows tourists to explore the kingdom of palms. It appears to be the Mekong Delta of central Vietnam. This palm swamps is located 5 kilometers east of Hoi An City in Cam Thanh Commune, and it covers an area of 80 hectares. It is a salt-marsh ecological area with beautiful sunset beauty and a diverse flora and fauna. It also supports a diverse range of aquatic species, including shrimp, crabs, fish, snakes, and mollusks.
10. Cham Islands:
Cu Lao Cham or Cham Island is about 15 minutes by speedboat or 1 hour by traditional wooden boat from Hoi An. It provides a brief respite for visitors. It is a Biosphere Reserve designated by UNESCO. Of which, Hon Lao is the largest and only populated island in the group. A one-day or two-day excursion to Cham Island will provide you with the opportunity to rest on the beautiful wild sandy beach of Bai Ong, Bai Huong. You can visit the Hai Tang Pagoda for further information about the island's history. Cham Island, in particular, is a fantastic place to go snorkeling and diving in Vietnam to explore coral reefs and a variety of aquatic life.
11. Marble Mountains:
Da Nang city is a well-known tourist complex for visitors from Vietnam and throughout the world due to its harmonious combination of mountains and beaches. Marble Mountains, a natural emblem of Da Nang, have long been Buddhist pilgrimage grounds, with a labyrinth of peaks, limestone caverns, and temples just waiting to be discovered.
Summer is the greatest season to explore the Marble Mountains since visitors may combine swimming at My Khe Beach and An Bang Beach in Da Nang or Hoi An. Tourists that go in the summer will not only be able to see the mountain clusters at their best, but they will also be able to see Vietnam at its most beautiful time of the year.
12. Lantern Making At Handicraft Worshop:
Hoi An is well-known for its colorful hanging lanterns, which serve as a symbol of the city. Hence, Hoi An is a hotspot for traditional Vietnamese craftsmanship and manufacture, thanks to its long history as a trading port. If you want to learn how to make a lantern and mingle with locals, this is the place to go.
Lantern making a great way to learn about Vietnamese culture and traditional craft techniques while having a good time.
13. Get A Tailor Made in Hoi An:
When you come to Hoi An city, Hoi An is the best city to get clothes made. You can see and choose different silk for your purposes. The UNESCO World Heritage-listed Ancient Town of Hoi An is brimming with tailors, a legacy of the town's past as a silk-trading port. There are so many tailor shops in this city that it can be difficult to find one that suits your preferences. But if you can have a reference in your guide book or online searching, you can find the best ones for you.
14. Hoi An Bicycle Tour:
Hoi An is the ideal place to hop on a bicycle and bike your way through the city, sandwiched between stunning white sand beaches and the Thu Bon River. The charming ancient area in the heart of town is ideal for cyclists. Cycling through rice paddies and quaint villages is only a short distance from Hoi An's Old Town. Thus, you get a chance to know about Hoi An's hidden parts and find some traditional handicraft jobs still preserved by the local Hoi An people.
WHAT ARE HOI AN'S SPECIAL FOODS:
Banh My:
Banh mi is a popular food in Vietnam and Vietnamese sandwich made with a baguette and a variety of fillings. In Hoi An, it's especially good. Banh Mi Phuong and Madam Khanh, the Banh Mi Queen, are three of the most well-known sandwich producers in the city.
However, having the late Anthony Bourdain's endorsement appears to have swung the tide of public opinion in Phuong's favor.
2. Mi Quang (Quang Noodle):
This is a soup that comes in a bowl. The Hoi An version, on the other hand, is more of a noodle meal with a lot of sauce. The name means "noodles from Quang," and it comes from Quang Nam province (where Hoi An is located). The broad rice noodles' distinctive yellow color comes from the inclusion of turmeric. Then a broth-based sauce, herbs, and a variety of proteins are added. Then sliced banana flower, bean sprouts, and herbs, are added on top. Crushed peanuts and toasted sesame rice crackers, on the other hand, are included. If you come to Hoi An, let's try this special dish at Ong Hai Restaurant.
3. Hoanh Thanh (Wonton):
Hoan Thanh Chien (Fried Wonton), with its salsa-like sauce, resembles Mexican nachos, but it's actually a fried wonton dumpling with a variety of meat fillings. The wonton is made with rice flour and filled with diced pork, shrimp, eggs, and spices before being deep-fried till golden brown. Hoan Thanh Chien is a Vietnamese snack or appetizer that is topped with a mixture of sautéed pork, corn, shrimp, tomato roulade, and coriander leaves.
4. Hoi An Chicken Rice (Com Ga Pho Hoi):
With their precise pulling talent in the technique of processing, the people of Hoi An have created a chicken rice dish that is so amazing that it has earned the moniker: "Pho Hoi" chicken rice. It is served with onions, sour papaya, and herbs Tra Que, as well as a cup of mixed heart, liver, and kidney soup.
5. Cao Lau:
One of Hoi An's most well-known local specialties. This street food favorite is made composed of pork, local veggies, and a rich pork bone broth served over characteristic, chewy noodles. The thick, chunky rice meal noodles are sliced, hand-shaped, and dried, which is why you won't find this dish on any other tables in any other town. The noodles were then soaked in a lye solution made from wood ash from Cu Lao Cham Island trees and specific water from the Gieng Bá Lễ (or Ba Le Well).
The minerality of this water imparts a distinct flavor, sallow color, and extra chewy texture to the cao lau noodles, giving the dish its own personality.
BEST TIME TO VISIT HOI AN: 
Every year, the best time to visit Hoi An is from February to April. It rains less here, and the weather is lovely. Summer is very hot to visit due to the extreme heat. Wet space is another drawback of the rainy season, which runs from October to November.
You should go to Hoi An on the 14th, the lunar calendar's full moon, to see the old town at night. All families in Hoi An's old town will switch off the lights and light lanterns on this full moon day. You'll get a firsthand look at the red lanterns that are strewn across the street during the festival, which is a typical scene in Hoi An. Aside from the festivals, special performances, and other events are organized for you. Let's choose the best time for your vacation holiday.
HOW TO GET HOI AN?
By Airplane:
If you come to Hoi An by air, let's book a flight from almost big cities in Vietnam where they have many domestic flights to Da Nang. Arriving at Da Nang airport, you can grab a bus, or a taxi, grab car, grab bike to Hoi An which is around 45 minutes drive.
2. By Bus:
Most long-distance buses stop at Da Nang city, therefore bus service to Hoi An is restricted. To get to Hoi An, travelers can take a local bus or taxi from Danang.
Open bus tour companies have a direct route to Hoi An. As a result, it is the most convenient way to go from Hanoi to Hoi An as well as Ho Chi Minh City to Hoi An. The bus also makes frequent stops in major cities like as Mui Ne, Da Lat, Nha Trang, Da Nang, Hue, Quang Binh, and Ha Noi. Here are several bus companies to consider: Camel Trekking, Phuong Trang, The Sinh Tourist…
3. By Train:
Arriving at Da Nang Train Station, you can grab a taxi or grab car/grab motorbike to come to Hoi An. Many trains run from the north to the south and vice versa with stopping in Da Nang city.
HOW TO BOOK HOI AN TOURS:
If you come to Hoi An and want to look for a reliable, professional travel agent that organizes private tours around Hoi An, let's think about Premium Travel Vietnam. They are one of the best local travel agents based in Da Nang city. Hence, they daily organize many private tours to many tourist attractions around Hoi An such as My Son Sanctuary, Marble Mountains, Ba Na Hills, Hue, Cham Island. In addition, they arrange all kinds of tours for you like Hoi An city tour, My Son Sunrise Tour, My Son Sunset Tour, Ba Na Hills Golden Bridge Tour from Hoi An, Marble Mountain Tour, Hoi An Private Shore Excursion, Da Nang Shore Excursion, Hue Shore Excursion and so on. Besides, they also provide you some of local culture tours such as Hoi An Basket Boat Tour, Hoi An Farming and Fishing Tour…
PREMIUM TRAVEL VIETNAM
100 Tran Van Du street, Ngu Hanh Son district, Da Nang city, Vietnam
Email: premiumvietnamtravel@gmail.com
Whatsapp: 0084 979613777 (Mr. Viet)
Website: https://premiumtravel.info/