General
OVERVIEW:
Discover the magnificent surroundings of coastal road between Hoi An, Da Nang and Hue. Enjoy view of Marble Mountains as well as stunning landscapes of Hai Van Pass is all that we have the ride for you! Explore various locations on a Thrilling Jeep Tour from Hoi An to Hue. So, let's book your ride online today with Premium Travel Vietnam.
JEEP TRANSFER HOI AN TO HUE ITINERARY:
In the morning, we will come to collect you at the hotel and then we begin our Jeep Tour from Hoi An to Hue ancient capital.
Our first stop is Marble Mountains – 5 marble peaks that represent five Oriental philosophy. They are Nuoc (Water), Moc (Wood), Fire (Hoa), Metal (Kim), Earth (Tho). This place is attracting lots of visitors everyday.
On arrival, visit Marble carving factory (optional) to admire the skill and talent of artisan of the village. Following up is a lift up and visit to 7-level Phuoc Duyen Buddist Pagoda. From here, you can see Non Nuoc beach a far. To move on, we keep walking and pay a visit to Linh Ung temple as well as big Buddist and Mercy Goddess statues. What a lovely, peaceful place.
After that, we keep walking up and visit Van Thong cave with a little chimney leading you up to the summit where you can grab a panoramic view of Non Nuoc beach and a resort nearby.
Our next stop is Huyen Khong cave that was the hiding and temporary hospital for the local people in the war time. Now this is the nicest cave because its own beauty and smoke as well as sunlight mixing up, making this cave more special.
To finish Marble Mountains, we step up some stairs and have a gorgeous outlook at river-watcching tower. From here, you can see the other four mountains.
When we finish, we then come back down and hop back on to continue our Jeep Tour from Hoi An to Hue heading to Linh Ung Pagoda in Son Tra Peninsula.
At arriving here, we stroll around this big spot and visit the highest Kwan Yin statue in Vietnam (67m high). This staue is huge and it seems she is calming down us when we look at her. In the wet season, she might come to rescue fishermen who might be in danger.
Next, we come and go in Linh Ung pagoda to make some of our best wishes. Lastly, we will go back to our jeep and keep going on our tour.
Our next part is Hai Van Pass – one of imposing passes in Vietnam. The pass is spectacular with all snaking passage ways. The pass is also called the Pass of the Ocean Clouds or Cloudy Pass due to mist and monsoon wind in the rainy season. Along the way are pine tree forest and beautiful beaches underneath. If you want, we can stop in a while for you to take some photograph.
Going down the hill, we make another stop at the railway for you to admire pretty beach of Lang Co town. This is lovely spot and is one of 30 beautiful bays in the world. From here, you can see blue sky and see fishing life of the local people. By the way, taking your opportunity for the best pictures.
Following up on is a nice drive through Lap An Lagoon where the locals grow oysters for sale. You can rest in a while looking out such a peaceful scenery.
Eventually, our jeep will transfer you directly to Hue. Thus, we will drop you at the hotel and our Jeep Tour from Hoi An to Hue will come to the end here.
WHAT DO YOU EXPECT HAI VAN PASS JEEP TOUR FROM HOI AN?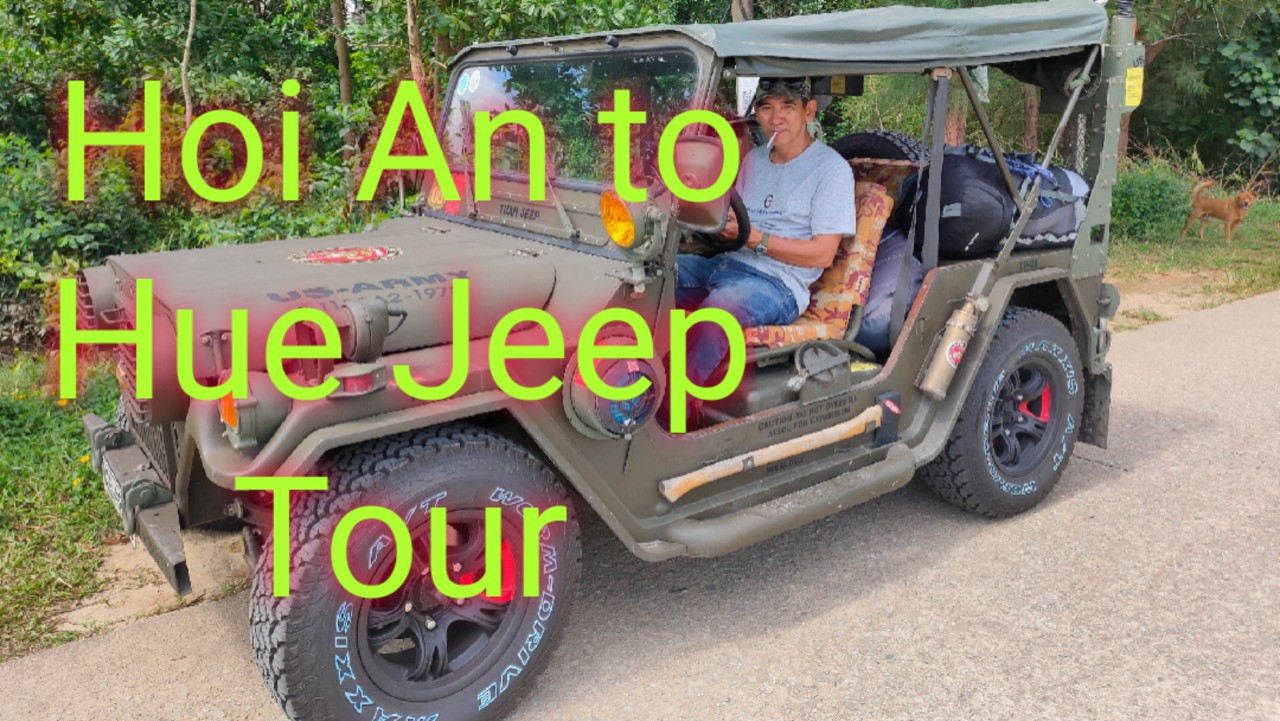 Being with Premium Travel Vietnam in this Jeep Tour from Hoi An to Hue, we not only take you have a great fun on our Jeep Car with open air adventure. But we also remind you of what expect to enjoy on former U.S Jeep Car for U.S officials in 1960's in the Vietnam war. Next, we will transfer you via Hai Vai Pass – amazing pass in central Vietnam.
Thus, Hai Van Pass, also known as the Sea Clouds Pass, offers a breathtaking view over Da Nang City, Tien Sa Port, the Son Tra Peninsula, and the South East Sea. It is the highest pass in Vietnam, crossing a spur of the Truong Son mountain range between Thua Thien-Hue Province and Da Nang City at 500 meters above sea level.
Due to its twisting roads, unexpected twists, and blind corners, the 25-kilometer-long mountain pass is popular with thrill-seeking Jeep Tourists, while its vantage point gives stunning views of Da Nang Bay.
HOW DO YOU ENJOY HOI AN HUE JEEP TOUR?
Jeep Tour from Hoi An to Hue provides you with the best adventure Jeep Tour in central Vietnam. Our guide and driver are well trained and will make your trip by Jeep car a memorable and unforgettable one. In addition, Premium Travel Vietnam not only organizes Hoi An Hue Jeep Tour but we also arrange Jeep Tour Hue to Hoi An for anyone who stays in Hue and would like to have an enjoyable adventure to Hoi An.
BEST JEEP TOUR HOI AN TO HUE Price?
Kindly send an email to us at premiumvietnamtravel@gmail.com or Whatsapp us at 0084 979613777 for information and details about The Best Jeep Tour Hoi An to Hue. We give you the best competitive price and incomparable Jeep Adventure from Hoi An. We are honored to serve you and always at your service 24/7.
Tour inclusion
Tour exclusion
– 4 – seat private car with air conditioning

– Experienced driver

– English speaking guide

– Entrance ticket

– Cold water and wet tissue

– Lunch

– Travel insurance

– Other expenses

– Soft drinks and beverages

– Tips and gratuities

Things to bring
Travel tip

-Fully charged camera; Sun cream; Climbing shoes; Caps/hats; Sun glasses; Insect spray; Shoulder covers

In months of October, November, December, January, February; it normally rains in Hoi An and Hue, let's bring rain coats with you. For the rest of the year, it is usually hot and humid.
HOW TO BOOK JEEP TOUR HUE TO HOI AN?
So, if you come to Hue city or Hoi An town, Da Nang city and would like to find a professional travel agent with best Jeep Tour Hue to Hoi An, do not hesitate to contact us:
Website: https://premiumtravel.info/tours
Email: premiumvietnamtravel@gmail.com
Whatsapp/Viber at 0084 979613777
We highly respect your choice and make your trip a meaningful one
Copyright by Phong Nha Pioneer Travel