General
VIETNAM SHORE EXCURSIONS OVERVIEW:
Vietnam Shore Excursions by Premium Travel Vietnam (PTV) will give you outstanding private trips to all well – known tourist attractions of Vietnam from any cruise ships or seaports of the country. As we all know, Vietnam has a long history with stunning landscapes and marvelous scenery. Every year, there are millions of tourists who travel by cruise ship have come and discover this long aged beautiful nation. So booking the trip with Premium Travel Vietnam for this Private Vietnam Shore Excursions, we will definitely make your trip an unforgettable one.
VIETNAM CRUISE EXCURSIONS SUMMARY:
Duration: 4 days
– Phu My port Ba Ria Vung Tau or Ho Chi Minh port
– Nha Trang port
– Tien Sa port (Da Nang) or Chan May port (Hue)
– Cai Lan port (Quang Ninh)
Starting time: 8:30 a.m
Finish time: 5:30 p.m
Highlights: Ho Chi Minh port, Phu My port, Chan May port, Tien Sa port, Halong Bay, Buddist temples, local market, local life, local culture, beaches, Ho Chi Minh city, Nha Trang city, Hue city, Hoi An ancient town, Da Nang city, Ba Na Hills Golden Bridge, marble caves, lime stones mountains, Vietnam Shore Excursions, Vietnam Private Shore Excursions, Cruise Ship.
VIETNAM PRIVATE SHORE EXCURSIONS ITINERARY:
SOUTH VIETNAM SHORE EXCURSIONS:
In order to begin our trip, our tour guide and driver will come to meet you up at Phu My port in Ba Ria Vung Tau then we are heading off to Ho Chi Minh city. So, this drive takes us around 2 hours to reach Saigon and on the way you can realize green paddy fields and rustic villages of Vietnamese countryside. Through stories of your guide on the bus, you will find out more of habits, customs and traditions of Vietnamese people.
Upon reaching Ho Chi Minh city, we then first sightseeing Reunification Palace. Hence, it used to be the home and workplace of the French. On April 30th, 1975, North Vietnam occupied this building from South Vietnam regime Ngo Dinh Diem and the war was over. Coming to this historical site, you will know more of the history of the city and the war of the country.
Next, we continue our Vietnam Shore Excursions with a visit to War Remnants Museum. This is a place where the war revolution of Vietnam is on display from the French to American war. It illustrates the endurance, sacrifices, losses of the local people and brutality of the war. Since then, our wish towards to a peace for humand kind in the future.
Moving on our journey, we then sightseeing Notre Dame Cathedral. The French built this for Catholic community in Saigon in 1863 when they began to conquer Vietnam. Today, it becomes the most impressive building in Saigon.
Later on, the guide might take you to a local restaurant for lunch. After that, we are off to Thien Hau Temple. This spot is located in China town, Cho lon and built in 1760 by Chinese traders to worship Lady of the Sea. By the legend, she could come to help people and cruise when flying on a mat. Nowadays, this place is sacred for Taoist and Buddist prayers coming and make their best wishes.
Lastly, to end our Phu My Vietnam Shore Excursions, we then head off to Ben Thanh market. You can do some shopping on your own before the guide comes to take you back to Phu My port.
NHA TRANG VIETNAM SHORE EXCURSIONS:
This is a cultural trip of Nha Trang, the trip will take you from south to north of this beautiful coastal city to select for you some of tourist attractions as follows:
Ponagar Cham tower: Perhaps the most intricate spot of Nha Trang city, from here visitors can have a panoramic view of stunning Nha Trang Bay and its beaches. Accordingly, this tower complex built by the Cham civilisation when they flourished the central Vietnam from 2nd to 13th century. Today, lots of pilgrims and local people come to offer her lots of flowers and incense to pray for good luck.
Hon Chong Promontory: this is a spot that offers fine view of coastline Nha Trang and some islands. From here, you can look out to the sea with picturesque vision as well.
Long Son Pagoda: A Buddist Holy place for Buddist followers. Thus, the pagoda has a well decorated design with images of Buddha and murals. Coming to this place, travelers will know more of Buddism in Vietnam.
Dam Market: this is a huge local market where you can see as many as selective silks and fabrics. Let's have some time exploring this busy market, interacting with local people and sample some of local culinary delights.
Silk Embroidery workshop: visiting a silk embroidery workhsop and admire the talent of the artisan.
Ending the day, we will directly transfer you back to the port.
CENTRAL VIETNAM SHORE EXCURSIONS:
To continue our Vietnam Shore Excursions, your cruise will land at Chan May port in Hue city or Tien Sa port in Da Nang city, from here we have selection of tours with various places of interests:
Shore Excursion Ba Na Hills Golden Bridge:
Therefore, this journey will help you explore Vietnam's biggest indoor amusement park of Ba Na Hills while enjoy spectacular and astonishing nature of Nui Chua Ba Na Hills. Besides, you can experience the world's longest cable car and taking a chance to visit Golden Bridge – a masterpiece by T.A Architect Company. Later on, you will be walking around to sightseeing Le Jardin D'Amour Flower garden, former French Wine Cellar.
Next, we take second cable car to go to Fantasy Fun Park with all exciting games and activities, visiting Du Dome Square, Catholic church, Alpine Coaster, Linh Chua Linh Tu Temple where there is highest peak of Ba Na Hills. Eventually, you will have some free time adventuring on your own before we take you back to the port.
Shore Excursion Hue City:
To go on with our Vietnam Shore Excursions, we will offer you the cultural trip to the ancient capital of Vietnam – Hue city. This is a charming, relaxing city with all splendors left by Nguyen Dynasty when they settled here in a long time.
Thus, the trip takes you passing through green rice paddy fields of Hue areas. On the way, you might stop somewhere for beautiful pictures.
Upon reaching Hue, we will pay a visit to Hue Citadel – a huge complex built by the royal family of Nguyen. It owns three walled cities with the Citadel, the Imperial and the Forbidden. Furthermore, we meander around to see Thai Hoa Palace, Royal Theatre and Forbidden City…
Next, we are off to Thien Mu Pagoda – an ancient Buddist pagoda in Hue. In the old times, many Nguyen Emperors had come here for poetry and it is today a holy place for Hue people today to come and give offerings to Buddha.
Lastly, we are heading to Tu Duc tomb – one of the impressive and nicest tombs in Hue. Built by Emperor Tu Duc in 1867, the tomb played the role of relaxation, entertainment, summer retreat for the Emperor himself coming to rest and enjoy his holiday. Besides, it was the final resting place for himself as well. In addition, the tomb has a very strong Feng Shui ideas from China and worth it a visit.
As soon as you are finished, the guide then transfer you back to the port. And our Shore Excursions Hue City will come to an end.
This is amazing trip to Hoi An city – the nicest city in Vietnam, a little VENICE of Vietnam. Hence, we first transfer you to Marble Mountains to visit some marble caves and many Buddist temples. Also, you have a chance to explore Huyen Khong Cave – the most beautiful cave and it functioned as a temporary hospital in the war time.
After that, we are off to Hoi An ancient town – World Cultural Heritage of Vietnam. Taking your opportunity to see a Chinese Assembly Hall, an old house, Japanese Bridge as well as local Hoi An market to taste some of flavors of the town. Besides, you can enjoy some of Hoi An's special foods of Cao Lau, Quang Noodles, White rose, Wonton. You will definitely love this town and have such a memorable experience.
Shore Excursion Da Nang city:
If you come to central Vietnam, it will be a big miss if you do not visit to Da Nang city – the most liveable city of Vietnam. Thus, PTV will help you explore Da Nang city in one day from seaport with Marble Mountains, Linh Ung Pagoda, Cham Sculpture Museum, Han Market, My Khe Beach ect.
Shore Excursion My Son Sanctuary/Holyland:
Especially, we are happy to provide you with an insight trip into Cham culture by the private trip to My Son Sanctuary. Thus, it was the holy place for the Cham people in the old days. Coming to the ruins of My Son, you will know more of Cham culture as well as former glorious civiliZation in central Vietnam. Moreover, you will realize the technique of building the Hindu temples by the Cham people without using any mortar.
Shore Excursion Hoi An countryside:
Finally, if you would like to stay away from the hustle, bustle of the big cities, then Hoi An countryside trip from seaport is a choice for you.
We will take you to Cam Thanh village in order for you to experience unique basket boat ride in Hoi An. This is special ride for you to understand Hoi An Fishing life.
Next, we bring you to Tra Que Organic Vegetables village. On arrival, you can wander around and see different types of herbs such as mint, lettuce, lemon basil, bok choy, coriander ect. On your request, you can learn how to hoe the soil, grow the plants, and water the garden. You will be a real Vietnamese farmer.
Following is to join a small cooking class with the locals. Thus, they will instruct you how to make plate decorations, then make some simple dishes including "Tam Huu", Banh Xeo (Vietnamese pancake), Fish in clay pot. Later, have a lunch here before we transfer you back to the seaport. We will end our services here.
NORTH VIETNAM SHORE EXCURSIONS:
In the morning, we will come to pick you up at Cai Lan port/ Hai Phong port then we directly transfer you to Tuan Chau Wharf. Hence, you will board for a private junk around Ha Long Bay – one of 7 new wonders of the world. Then you take your chance to grab breathtaking views as well as astonishing sceneries of the area. Our tour winds through incredible scattered lime stones mountains of Ha Long Bay, visiting Rocky Dog, Fighting Cock, Incense Burner islet, stopping at Surprise cave (Sung Sot) for wonderful pictures. After returning to our junk, you are served with fresh seafood meal on board. Next, we will cruise to Titop island where you can sunbath, swimming and climb to the rock summit to own a worthwhile view. Finally, we will come and bring you back to the port for departure ship.
First, we are a trusted, 100% local travel agent with more than 15 years experience in the industry. So, we thoroughly understand all living style, culture, places of interests so we can prepare the best trip for you. Second, we are the local Vietnamese travel agent so we will give you competitive price without using any middle man in this trip. Third, we will create a unique experience that every traveler will find the trip interesting. Besides, we organize private tour with a small group so that you can find easy to contact with your guide. And eventually, we will highlight the trip for you with different stops in different ports from Phu My port in south Vietnam to Halong Bay in north Vietnam. Let's join Premium Travel Vietnam for the best private trip from cruise ship ever.
VIETNAM CRUISE SHIP TOURS PRICE?
Please send an email to us at premiumvietnamtravel@gmail.com, we will promptly response to you. Or contact us at Whatsapp Mr. Viet – Travel Manager at 0084 979613777. We are honored to serve you and always at your service 24/7.
Tour inclusion
Tour exclusion
– 4 – seat private car with air conditioning

– Experienced driver

– English speaking guide

– Entrance ticket

– Cold water and wet tissue

– Lunch

– Travel insurance

– Other expenses

– Soft drinks and beverages

– Tips and gratuities

Things to bring
Travel tip

-Fully charged camera; Sun cream; Climbing shoes; Caps/hats; Sun glasses; Insect spray; Shoulder covers

In months of October, November, December, January, February; it normally rains in North and Central Vietnam, let's bring rain coats, jackets with you. For the rest of the year, it is usually hot and humid. In South Vietnam, from Dec to May is the dry season.
Remarks
Tour can depart from Phu My port, or from Nha Trang port, Tien Sa port, Chan May port, Cai Lan port and is conducted in good weather. We will not organize the tour in case of bad weather. We will consider it and refund to you (if any).
Children policy
FOC for children under 5 years old
50% charge for children from 6 to 12 years old
Full charge as adults for children over 12 years old 
HOW TO BOOK CRUISE EXCURSIONS VIETNAM?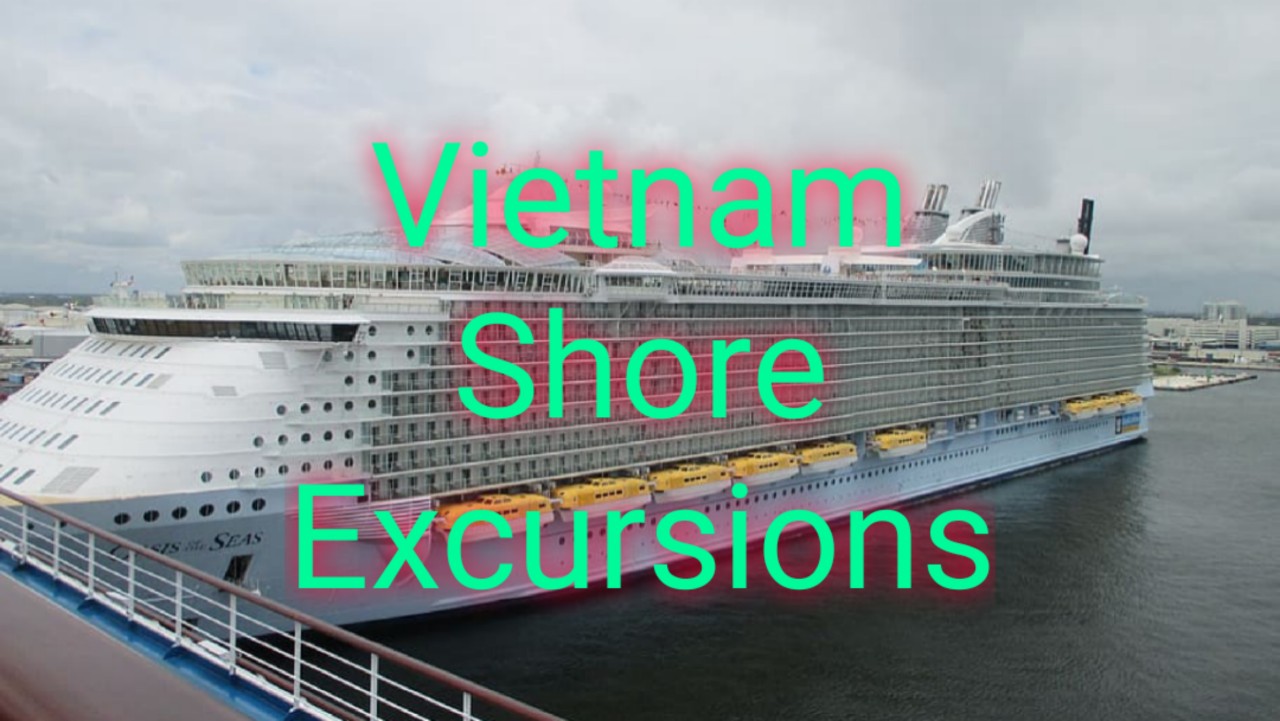 Finally, if you come to Vietnam by cruise ship from any seaports (Phu My port, Nha Trang port, Tien Sa port, Chan May port, Cai Lan port) and would like to find the best travel agent for Vietnam Private Shore Excursions, do not hesitate to contact us:
Premium Travel Vietnam
Website: https://premiumtravel.info/tours
Email: premiumvietnamtravel@gmail.com
Whatsapp/Viber at 0084 979613777
We highly respect your choice and make your trip a meaningful one
Copyright by Phong Nha Pioneer Travel, see the original link here