Hue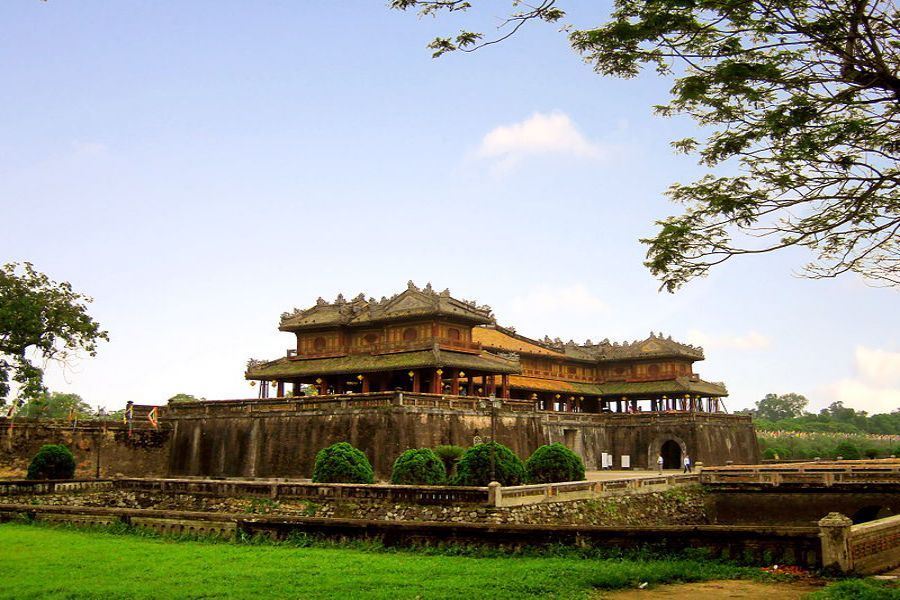 Hue is a city in central Vietnam that was the seat of Nguyen Dynasty emperors and the national capital from 1802–1945. A major attraction is its vast, 19th-century Citadel, surrounded by a moat and thick stone walls. It encompasses the Imperial City, with palaces and shrines; the Forbidden Purple City, once the emperor's home; and a replica of the Royal Theater.
The old city of Hue, which sits on the banks of the Perfume River, has been designated as a UNESCO World Heritage Site. This city, which was the national capital, educational, cultural, and political center of Vietnam during the Nguyen Dynasty, is the origin of Vietnamese culture. This riverfront town, which is home to national treasures such as a complex of temples, pagodas, tombs, and monuments, welcomes millions of travelers each year to see these intriguing sights. Despite the fact that American troops destroyed numerous ancient structures in the past, Hue retains its allure. To help you understand more of Hue history, Premium Travel Vietnam gives a full understanding of Hue.
Hue History:
What to do in Hue city?
What are Hue Special Foods?
Best time to visit Hue?
How to get Hue?
Top things to do for tours in Hue:
Best Travel Agent/Tour Company in Hue city?
HUE HISTORY:
Hue is a Vietnamese city in the middle part of the country. Hue is passed by the broad, shallow Huong River, which lies on a plain backed by foothills of the Annamese Cordillera and is located 5 miles (8 km) from the South East Sea shore (Hue River, or Perfume River). The Chinese-style Vietnamese Imperial Castle (Dai Noi) is located in the city's core, on the river's left bank, from which the Nguyen family ruled southern and central Vietnam from the mid-16th to the mid-20th centuries. The citadel's 7-mile (11-kilometer) fortified perimeter protected rare Vietnamese antiques. The French quarter was on the right bank during colonial times. The city's commercial district is located to the east.
Hue was first mentioned in 200 BCE, when it was the seat of Chinese military authority in the kingdom of Nam Viet, and it fell to the Cham around 200 CE. It was repeatedly seized by the Chinese before being given to Dai Viet in 1306. (Vietnam). Hue was the seat of the Nguyen family from 1558. In 1802 Prince Nguyen Anh became Emperor Gia Long of the newly founded Nguyen dynasty, which covered Tonkin (northern Vietnam) and had its capital at Hue, with the help of the French. Bao Dai, the last of his family, served as a figurehead under the French protectorate, which had existed since 1883. He was nominally emperor of Vietnam from 1926 to 1945.
In April 1947, Hue was designated as the seat of a provisional administrative body of non-communist Vietnamese. However, on July 1, 1949, the newly formed state of Vietnam picked Saigon (now Ho Chi Minh City) as its capital, and Hue ceased to exist. During World War II, from 1940 to 1945, it was occupied by the Japanese.
Hue has been through various upheavals since the war ended. It was severely damaged during the First Indochina War (1946–54), and serious civil unrest occurred in 1963 and 1965. Many old royal buildings, museums, libraries, and Buddhist sanctuaries, notably the Temple of Heaven, were damaged during the Vietnam War's Tet Offensive in 1968. Following that, the city was reconstructed.
Because of all splendor and remains of buildings, temples, pagodas, palaces from Nguyen Dynasty, Hue's complex of historic monuments was designated a UNESCO World Heritage site in 1993.
WHAT TO DO IN HUE CITY?
HUE IMPERIAL CITY (HUE CITADEL)
The Hue Monuments Complex is a UNESCO World Heritage Site located in Hue, Vietnam's major city. In 1802, Gia Long, the first king of the Nguyen Dynasty, established Hue as the Vietnamese capital. Until 1945, it retained this status for nine Nguyen dynasties.
Hundreds of monuments and ruins, including the Forbidden Purple City, which was formerly the royal family's house and was heavily damaged during the Vietnam War, the Imperial City, royal palaces, flag tower, pagodas, temples, a library, and a museum, are all part of the huge complex.
The ancient Hue Imperial complex is well-known for its gorgeous landscaping as well as its rich architecture. So, do not miss this when you come to Hue.
2. THE PERFUME RIVER:
The Perfume River is one of Vietnam's most well-known waterways, and Hue is the ideal location to take it all in. There is a lovely waterfront promenade along the river's banks, which is a terrific area to come for a relaxing evening stroll. If you want to have a closer look at the river, you can rent a boat trip for an elegant dinner cruise. Moreover, in the day time, if you want to view landscapes on two banks of the river, the best way is to board a dragon boat ride on the Perfume River where you final destinations will either be Thien Mu Pagoda or Tu Duc or Minh Mang Tombs. As you get off the boat, you can take a walk to the tombs.
3. THIEN MU PAGODA (HEAVENLY LADY PAGODA):
It is a really big miss if you come to Hue without visiting Thien Mu Pagoda (also known as Linh Mu Pagoda or Heaven Fairy Lady Pagoda, is one of Hue's most fascinating pagodas. Hence, it is located on Ha Khe Hill, on the north bank of the Perfume River, 5 kilometers from Hue city center, and is easily accessible from there either by boat or motorbike or bicycle. Thus, the pagoda has attracted a large number of people from both inside and outside the country to come and study the mythology for themselves, thanks to its intriguing history. Thien Mu Pagoda therefore has become one of Hue City's most popular tourist attractions and must be on top list for every single traveler when they come to Hue. We would like to recommend travelers visit this pagoda in the afternoon so that you can witness the monks praying and enjoy the lovely sunset over the Perfume river.
4. EMPEROR MINH MANG MAUSOLEUM:
The tombs of the Nguyen Emperors are one of Hue's biggest draws, and they're one of the main reasons why so many people come to Hue every year. Having a total of 13 Emperors but only 7 tombs were built, all the tombs built in honor of historic Hue Emperors are a must-see for anybody who is interested in ancient architecture and history of Hue and Vietnam. Of which, we highly recommend visitors to pay a visit to Minh Mang Tomb.
Thus, Minh Mang Mausoleum is located on the west bank of the Perfume River and is regarded as the most ambitious royal tomb built under the Nguyen Dynasty. This spacious tomb, which is about a 30-minute drive from Hue City Center, began building in 1840 on Emperor Minh Mang's orders and was completed three years later during Emperor Thieu Tri's reign. Minh Mang Tomb. Specifically, the tomb is surrounded by landscaped lakes and canals, has a total of 40 structures, including palaces, temples, terraces, and pavilions. Minh Mang Tomb is just amazing and a must see site for you as it is the most beautiful tomb under Nguyen Dynasty.
5. TU DUC MAUSOLEUM:
Apart from Minh Mang Tomb, it is unmissable for you if you don't come to experience the beauty of Tu Duc Tomb – another amazing architecture built by Emperor Tu Duc when he was alive.
Tu Duc Tomb is one of numerous royal tombs that can be seen on the outskirts of Hue Imperial City. Because of its natural hillside and riverbank setting, Emperor Tu Duc used the compound as a summer palace between 1864 and 1867 to relax by himself together with his concubines. The Tu Duc Tomb, which is home to a vast lake and over 50 palaces, pavilions, temples, and shrines, provides a soothing atmosphere for visitors who are deeply interested in learning about the history of the Nguyen Dynasty. The royal tomb is located in Thuong Ba Village, a 15-minute drive from Hue Imperial City.
6. KHAI DINH MAUSOLEUM:
The Nguyen dynasty's twelfth emperor is Khai Dinh. He is also the last of the Nguyen dynasty's emperors to prepare a "house in another planet." The Khai Dinh mausoleum was built atop Chau Chu summit (also known as Chau E), about 10 kilometers from Hue city. The construction of Khai Dinh tomb began on September 4, 1920, and it took 11 years to finish.
Some of the building materials came from France (iron, steel, cement, and Ardoise tile), while others came from Japan (porcelain and glassware). Khai Dinh tomb is smaller than other Hue tombs, yet it is more complicated and time-consuming. It is a mix of traditional and modern architecture from East and West.
The primary building of Khai Dinh tomb is Thien Dinh palace, which is located at the highest point. It is divided into five sections: lateral apartments for bodyguards, the front palace known as Khai Thanh, which is dedicated to the altar and portrait of Emperor Khai Dinh, and the middle space, which houses the emperor's statue and grave. Behind the altar lies the late emperor's altar.
Khai Dinh tomb is a rectangular structure with up to 127 steps in general. The mountains and streams that surround the tomb of Khai Dinh not only serve as Feng-shui elements, but also provide a breathtaking natural backdrop.
7. TU HIEU PAGODA:
Tu Hieu Pagoda, one of Vietnam's most hallowed Buddhist lands, is the country's largest and oldest pagoda, as well as a popular tourist attraction with historical and cultural significance. Thus, the name "Tu Hieu" translates to "Filial Piety," which encompasses Buddhism's two most fundamental characteristics.
People come here not just to enjoy the natural surroundings and historic evocative monuments that blend in nicely, but also to be reminded of the most essential obligation in one's life: to love and care for one's parents and family. Tourists are encouraged to stop here on their way to Tu Duc's Tomb. If you want to hear the monks chanting, go between 10 a.m. and 4 p.m.
8. BACH MA NATIONAL PARK:
If you prefer adventure tour and hiking experience around Hue, Bach Ma National Park is the good choice. Lying at 1450 meters above sea level, Bach Ma National Park is home to spectacular waterfalls, hiking routes, and decaying French mansions. This beautiful scenery, located in the Annamite Range, is a favorite retreat for locals and visitors from both cities, with local buses stopping in the nearby Cau Hai Village for 60,000 VND for those traveling from Hue and VND 80,000 for those traveling from Da Nang. Visitors can spend a full day (or two) hiking, camping, rappelling, swimming, and even abseiling down Do Quyen Fall, which is home to hundreds of endangered flora and species (Rhododendrun Fall).
9. HON CHEN TEMPLE:
Hon Chen Temple is devoted to Po Nagar, the Cham population's Goddess, who would have been based in Ngoc Ho Village in the past.
The shrine, which rests atop a rugged cliff in Ngoc Ho Village, has been renovated twice, once in 1832 and again in 1886. The temple presently houses a lot of interesting antiques, including several ancient vases, Chinese calligraphy, and exquisite animal carvings.
Local music and dance performances can be found here between the third and seventh lunar months of the year.
10. HO QUYEN ARENA:
Ho Quyen Arena lies 4 kilometers from the Hue Citadel, on the south bank of the Perfume River. Ho Quyen was constructed in 1830. It's a one-of-a-kind structure, open to the elements and strongly constructed as a citadel. The coliseum is made up of two concentric brick and mortar circles. The Emperor, the royal family, and mandarins were entertained in Ho Quyen, where elephant and tiger duels were staged for the Emperor's, royal family's, and mandarins' amusement. The Ho Quyen duels were held once a year in the past. The last one was held here in 1904, during Thanh Thai's reign.
The path that runs around the curved entrance has been narrowed into a short bridge that spans the curving door. A large two-wing wooden door with stone hinges remains unharmed beneath it. On the other side of the arena, opposite the Emperor's tribune, there are five cages for tigers and leopards. A stone sign with the Chinese words "Ho Quyen" carved above the middle cage. Ho Quyen is a one-of-a-kind architectural creation located only in Southeast Asia. Although it is not as large as the Emperor Romance's arenas, it nonetheless stands out and creates a martial and commanding mood.
11. ELEPHANT SPRING:
Elephant Springs should be a must-see for anyone visiting this region of the world in search of natural beauty.
It's a spectacular natural spring about 53 kilometers from Hue that'll leave you speechless.
On hot days, people enjoy cooling themselves in the natural pool behind a little waterfall. It is best to visit this location on weekdays if you are looking for seclusion. You'll love the peacefulness, but keep in mind that you won't be able to eat because the food vendors are only open on peak days.
12. TASTE HUE LOCAL FOOD:
Hue is known for its majestic Imperial City, which is located in Central Vietnam. Hue's local cuisine, on the other hand, is excellent. Many guests have returned to Hue solely for the cuisine! Hue's local cuisine is so varied and delicious that it might be regarded a foodie's paradise in Vietnam. People think that the Nguyen Emperors ate different cuisines every day, which explains why there are so many distinct dishes from Hue.
As a result, even if you aren't a huge foodie, you will fall in love with the cuisine. Hue Street Food Tour is one of the most popular choices among visitors. The tour provides an overview of Hue cuisine as well as opportunities to sample some of the best dishes.
You can try some of Hue Local Foods such as Hue Beef Noodle Soup (Bun Bo Hue), Hue Lemongrass Skewers (Nem Lui Hue), Vietnamese Crepe (Banh Khoai), Steamed Rice Cakes (Banh Beo), Tapioca Dumplings (Banh Loc Goi), Vermicelli Noodles With Grilled Pork (Bun Thit Nuong), Fried Sticky Rice Dumplings (Banh It Ram), Hue Fig Salad (Va Tron Hue), Lotus Seeds Sweet Soup (Che Hat Sen)…
13. COUNTRYSIDE VILLAGES:
If the citadel, palaces, kings' tombs, temples, and pagodas all lure visitors with their majesty and poetry setting beyond equal, a stroll through the historic capital's surroundings also reveals some pleasant surprises. Visit Hue people, who maintain centuries-old traditions in small villages dotted around the Perfume River's serene orchards will give you an insight into Hue handcraft culture.
a. Bronze Casting Village:
Its history dates back to the era of Lord Nguyen Hoang in the 16th century, and it is also known as Phuong Duc, which means "founders' quarter". Visiting one of workshops in Phuong Duc will astound you with the craftsmen's intense connection to each stage of their work, demonstrating their immense patience and attention to detail.
b. Phuoc Tich Village:
You'll find yourself in a typical old village listed as a national remnant by entering through its covered entrance, the country's second after Duong Lam in Hanoi. A trip through twentieth-century residences with typical Hue architecture is not to be missed after a little introduction to create some pleasant memories on your own. The "nha ruong," or beam home, is a part of the country's and families' traditional history. A dozen colorful family temples rich in sculptures are also well worth a visit in addition to these wooden jewels.
c. Sinh Folk Painting Village:
If agriculture is the village's primary occupation, the Sinh village is well-known throughout the country for its folk painting. The Sinh paintings, like the vivid Dong Ho and Hang Trong paintings that have made the northern villages famous, are admired by a wonderful know-how dedicated to folk culture. Customary traditions and, in particular, spiritual life, a particularly sacred world of the Hue peoples, inspire the craftspeople.
d. Thanh Tien Paper Flower Village:
The paper flowers on the altars of geniuses and ancestors are only renewed once a year, thanks to the religious rituals of the people of this central region. This necessitates a large amount of work for Thanh Tien's craftspeople over the last few months of the year. Over the last four centuries, they've really honed their skills. With the hands and ingenuity of the gifted, the Thanh Tien flowers have evolved to address many events, holidays, and house decorations… At the international festival held in Hue every two years, you may witness exquisite Thanh Tien lotus leaves.
e. Thuy Xuan Incense Making Village:
The incense sticks, which are on display at Thuy Xuan Village, are another specialty of Hue handicraft. The majority of families are involved in this manufacture, which adds elegance to an activity that is a part of key traditional rites in Vietnam, such as Buddhist ceremonies and ancestor worship. The day begins with a delightful scent that pervades all of the village's nooks and crannies. Bunches of flowers of any color are attractively arranged in the courtyards of the houses from one studio to the next, and they really catch your attention when you arrive. This is an opportunity to learn about some of the traditional techniques used to create these stunning images of a cherished custom.
WHAT ARE HUE SPECIAL FOODS?
Coming to Hue, it will be a regret if you not try many Hue local foods. They are as follows:
Hue Beef Noodle Soup (Bun Bo Hue): A regional specialty, Hue beef noodle soup consists of thick rice vermicelli and numerous toppings in a thick broth. Unlike pho, this meal has cooked bones and shanks, annatto seeds, lemongrass, ginger, fermented shrimp paste, chilli oil, and sugar to give it a sweet, sour, and spicy flavor.
Hue Lemongrass Skewers (Nem Lui Hue): Nem lui is a kebab-style meal made with lemongrass stalks that are wrapped around marinated meat (typically pork or beef) and barbecued over charcoal. A side of rice paper, lettuce and cucumber slices, rice vermicelli, and fresh herbs are also provided to diners.
Vietnamese Crepe (Banh Khoai): The golden yellow color of banh khoai immediately distinguishes it from other savory appetizers in Hue. This open-faced crepe is commonly found at roadside stalls, local eateries, and marketplaces, and is typically loaded with pork, shrimp, scallions, and beansprouts.
Steamed Rice Cakes (Banh Beo): Banh beo are topped with dried shrimp, deep-fried pig rind, shallots, rice vinegar, and fresh herbs, and resemble cupcakes. With a side of nuoc mam (fermented fish) dipping sauce and red chilies, this dish is complete.
Tapioca Dumplings (Banh Loc Goi): Banh Loc Goi is stuffed with marinated shrimp and ground pork before being wrapped in oiled banana leaves and steamed until done. Unwrap the banana leaf and dip it in a plate of nuoc mam pha, a sauce mixed with vinegar, shrimp stock, fermented fish sauce, sugar, and fresh chilies, to enjoy this Hue snack.
Vermicelli Noodles With Grilled Pork (Bun Thit Nuong): Rice vermicelli noodles, grilled pork, lettuce, cucumbers, beansprouts, pickled daikon, basil, mint, chopped peanuts, and deep-fried spring rolls make up bun thit nuong. This hefty dish comes with a side of pickled carrots, fresh lettuce, and a fermented fish dipping sauce, and is priced from VND 20,000 onwards. Pour the sauce over the noodles for an added blast of flavor, as the locals do.
Fried Sticky Rice Dumplings (Banh It Ram): Banh it ram is a Central Vietnamese delicacy that combines a steamed sticky rice dumpling with a crispy sticky rice patty. The dumpling is covered with a savory mix of green scallions, shrimp, and pork, similar to a Japanese mochi but served as an appetizer rather than dessert.
Hue Fig Salad (Va Tron Hue): Va tron salad, which combines boiled figs, sliced carrots, mushrooms, and onions with either shrimp or shredded pork, was formerly a food reserved for Hue's nobility. This sort of green fig can only be found in Central Vietnam, thus it's a must-try for first-time visitors to Hue. Mixing fermented shrimp paste, roasted sesame seeds, and fried shallots into Va Tron Salad is our favorite way to eat it.
Lotus Seeds Sweet Soup (Che Hat Sen): Che Hat Sen is one of Hue's many traditional desserts, consisting of lotus seeds and green rice flakes in a sweet broth. Locals frequently drink it in the summer to beat the heat, but it may be enjoyed at any time of year.
BEST TIME TO VISIT HUE:
Hue is best visited between January and April, when temperatures range from 20 to 24 degrees Celsius. Rainfall is common, but it usually occurs in the form of a mild drizzle during the day. You may still comfortably visit Hue's historical sites and temples on foot at this time of year.
HOW TO GET HUE?
By Airplane:
If you come to Hue by airplane, let's book a flight from almost big cities in Vietnam where they have many domestic flights to Phu Bai Airport in Hue city. Arriving here, you can grab a bus, book Hue Airport Transfer or catch a taxi, grab car, grab bike to Hue center which is around 30 minutes drive.
2. By Bus:
Most long-distance buses stop at Hue city. To get to Hue, travelers can take a local bus from any cities in Vietnam.
Open bus tour companies have a direct route to Hue. As a result, it is the most convenient way to go from Hanoi to Hue as well as Ho Chi Minh City to Hue. The bus also makes frequent stops in major cities like as Mui Ne, Da Lat, Nha Trang, Da Nang, Hue, Quang Binh, and Ha Noi. Here are several bus companies to consider: Camel Trekking, Phuong Trang, The Sinh Tourist…
3. By Train:
Arriving at Hue Train Station, you can grab a taxi or grab car/grab motorbike to come to Hue center. Many trains run from the north to the south and vice versa with stopping in Hue city.
TOP THINGS TO DO FOR TOURS IN HUE?
BEST TRAVEL AGENT/TOUR COMPANY IN HUE CITY?
If you come to Hue and look for the best tour company or the best travel agent with the best services, do not hesitate to contact us as follows:
Website: https://premiumtravel.info/tours
Email: premiumvietnamtravel@gmail.com
Whatsapp/Viber at 0084 979613777
We highly respect your choice and make your trip a meaningful one
Copyright by Phong Nha Pioneer Travel, see the original link here