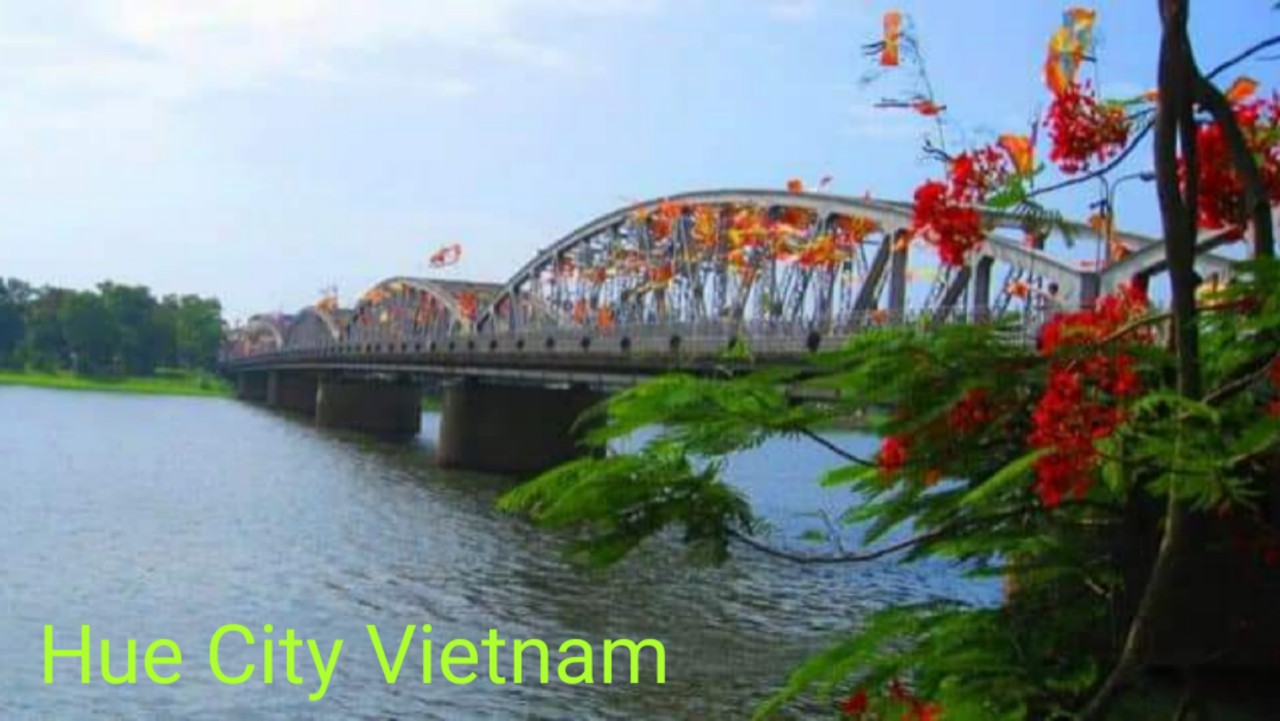 When you travel to Hue city, central Vietnam, you will not only get the chance to sample authentic Hue cuisine, but they also offer stunning interiors and first-rate service. Many restaurants in Hue, in addition to the traditional ones, are run by expats and provide typical western fare including spaghetti, pizza, and grilled meats. In this article, Premium Travel Vietnam will present a list of 10 Best restaurants in Hue, including both national and international eateries, that are well-liked by both locals and visitors.
10 BEST RESTAURANTS IN HUE
1. Les Jardins de LaCarambole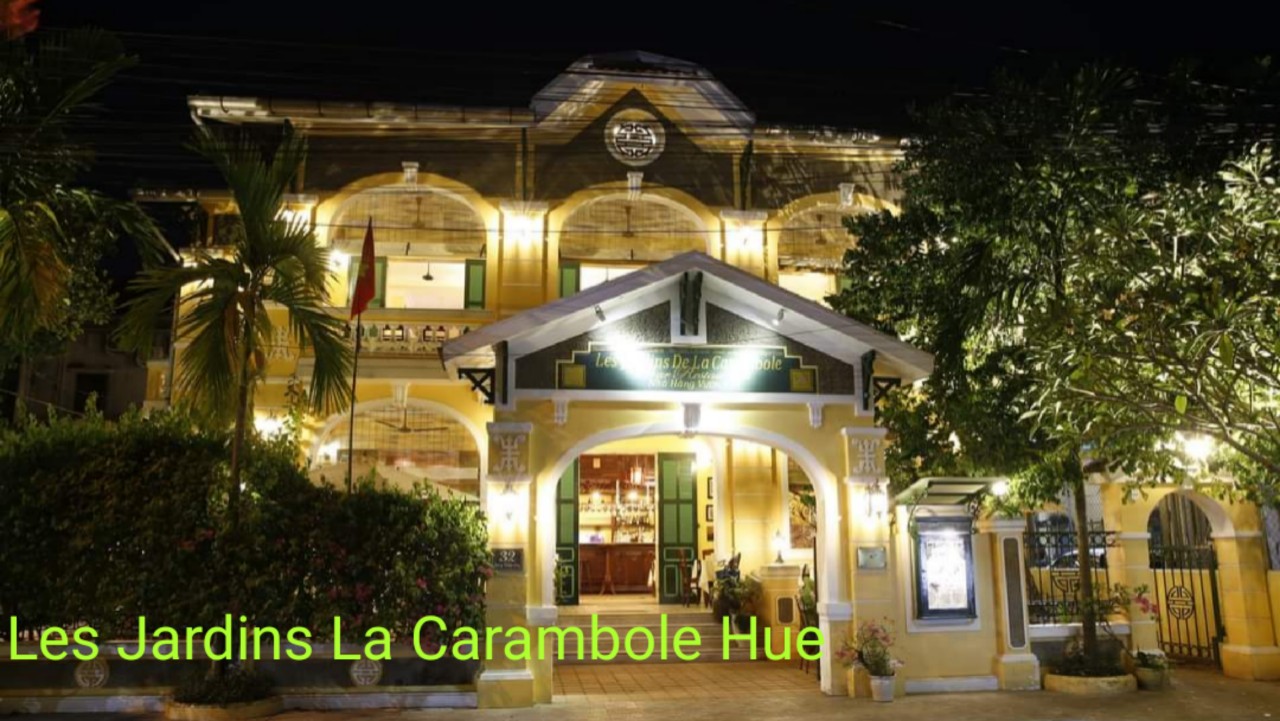 Coming to Hue city, tourists not only coming to the world heritages and enchanting landscapes but also enjoying an extremely rich and unique culinary culture which is famous for diners around the world.
And to meet the needs of people and tourists visiting Hue, there are many restaurants which are increasingly well decorated and diverse in food quality. Les Jardins de la Carambole is one of the restaurants specializing in European and Asian dishes that is highly appreciated by many diners and food lovers.
Setting up 20 years ago, Les Jardins de la Carambole is a European and Asian restaurant with a long history in Hue. The restaurant is located on quiet Dang Tran Con street, and right next to the Citadel, very easy to find. The restaurant specializes in French and Vietnamese cuisine. The overall space of the restaurant is a French architectural outlook but still classy and luxurious. Every little corner in the restaurant is also taken care of, decorated very carefully, making it a pride for those want to try some of best cuisines.
Address: 32 Dang Tran Con street, Hue city
2. Spice Viet Restaurant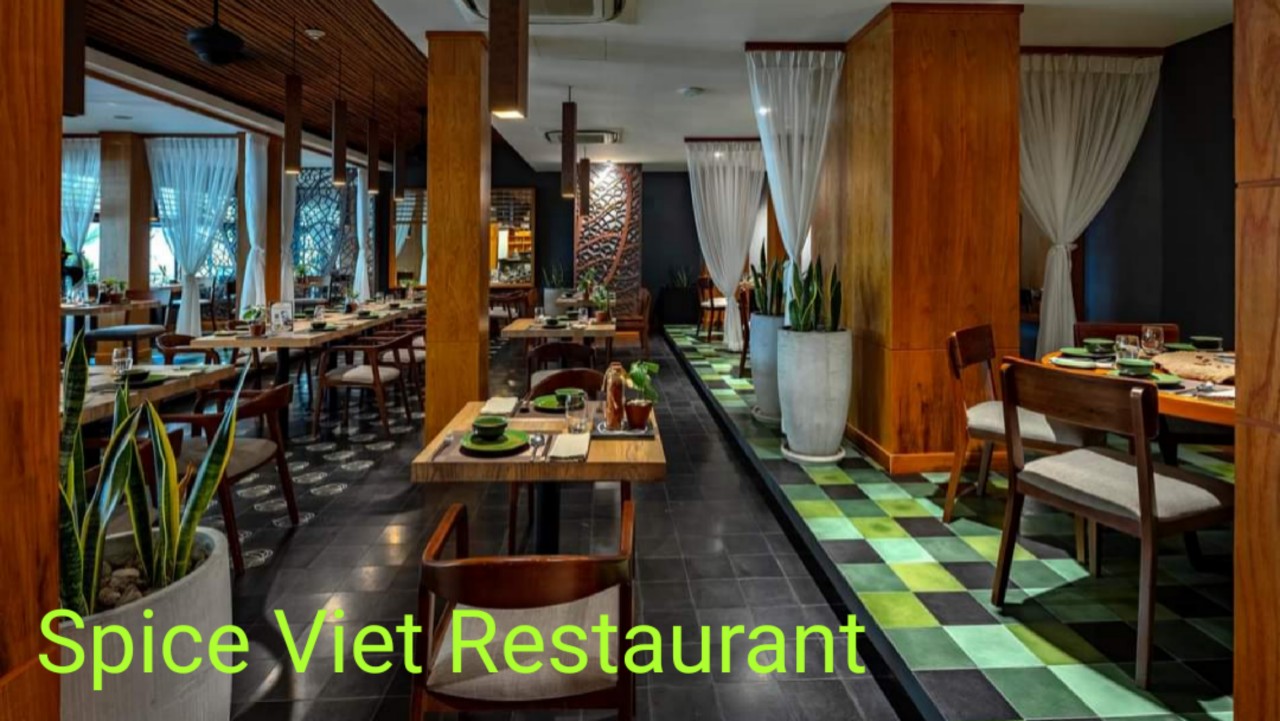 The Spice Viet restaurant is close to the heart of Hue's old capital, giving you a complete taste of the S-shaped country's three regional cuisines. For processing, the restaurant constantly chooses local, fresh foods. Hue meals in particular or rustic Vietnamese food in general. The restaurant's chic and opulent interior is ideal for intimate meals with loved ones, close friends, or large groups.
Address: 187 Ly Thuong Kiet street, Hue
3. Y Thao Garden Restaurant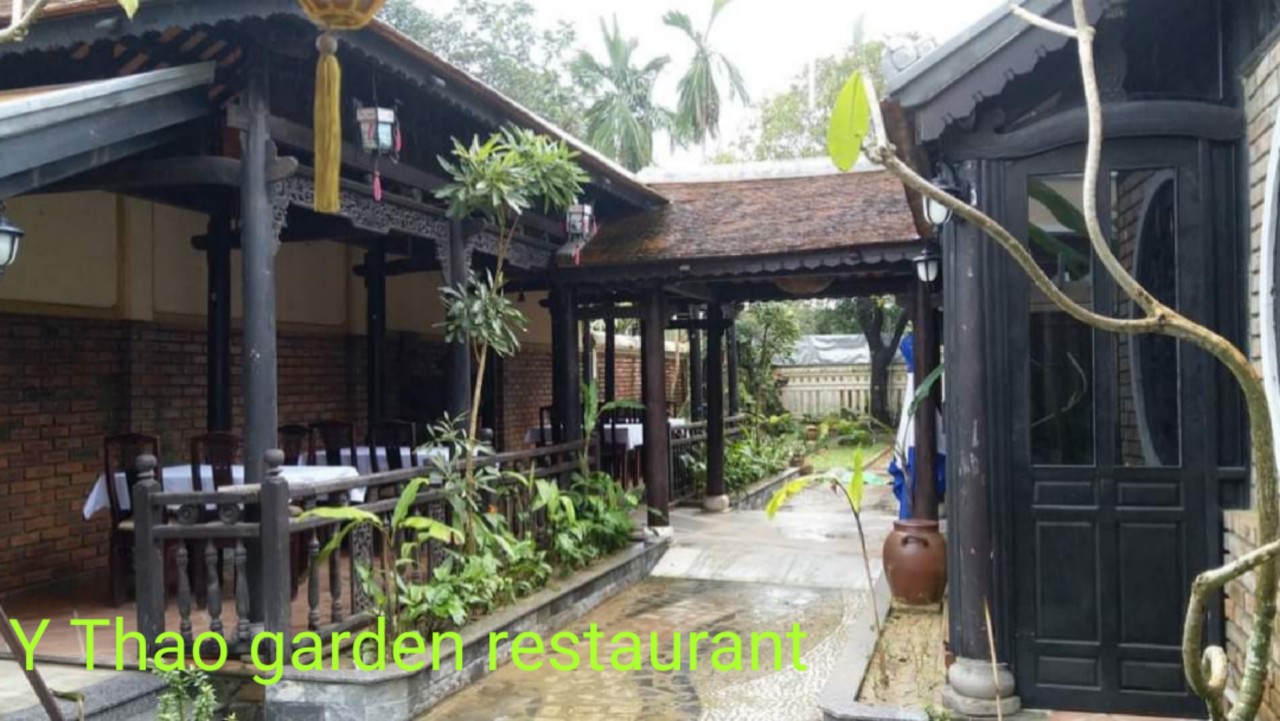 With its natural plant aroma, the garden area lends this place a feeling of freshness and cleanliness. The atmosphere is quite traditional, respectful, peaceful, and tidy. There are both savory and vegetarian options on the menu. The cuisine is presented in an exquisite and lovely manner. The restaurant, in particular, offers cooking classes for Vietnamese cuisine.
With two spaces—a garden space and an interior room—Y Thao Garden Restaurant has an architecture reminiscent of an old villa.
Especially, two collections of Hue's fine arts are held by Y Thao Hue Garden House: one is a collection of 200 pieces of Hue enameled porcelain acquired through the Le-Trinh, Nguyen lords, and the other is a collection of Hue mirror paintings. The value of this house may be greatest here.
Address: 3 Thach Han street, Hue city
4. Golden Rice Restaurant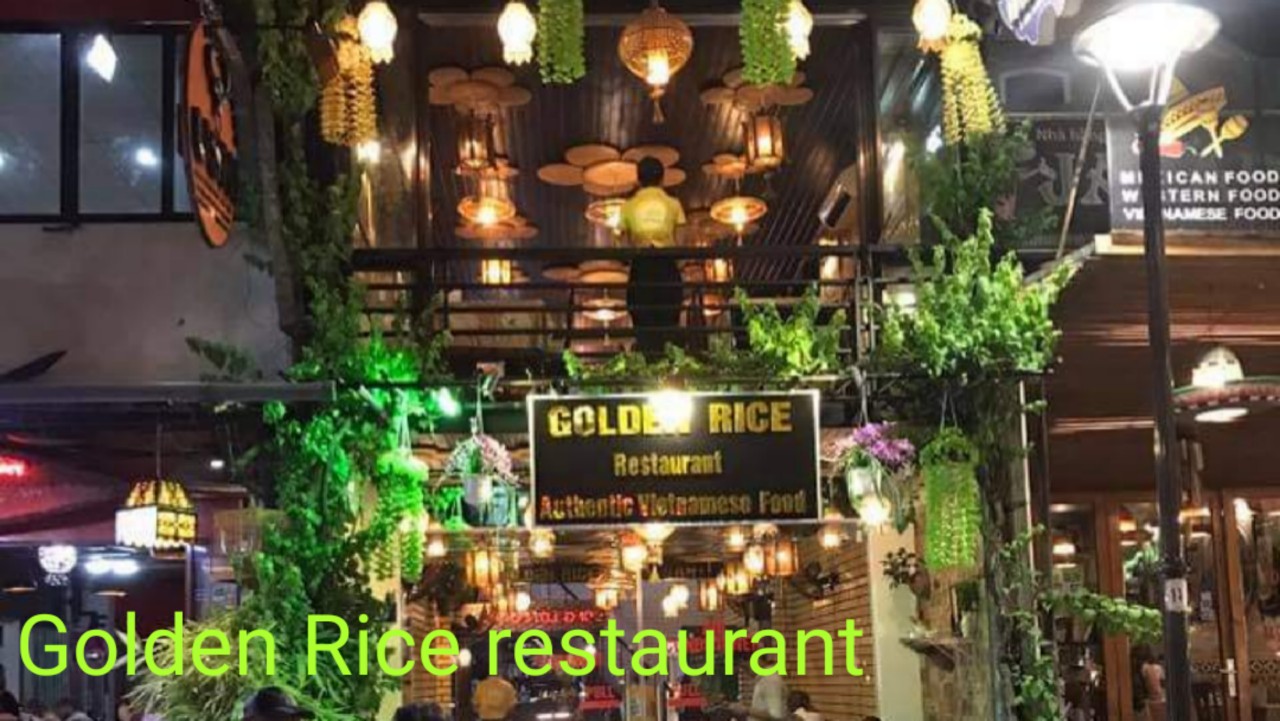 Golden Rice is located at 40 Pham Ngu Lao street, Hue city and is among the well known places for food lovers in Hue. They serve both local specialities and Western food. The food was beautifully plated and delicious. The service is very good and the location is central. If you want to enjoy Dinner at Golden Rice restaurant, it wiill be spectacular. The staff truly enjoys your being there and respectful of your space. We will highly recommend the green mango salad for you to try. It is so good. The service here is efficient and friendly, and the view from the table of the street scene is also very entertaining!
So, Golden Rice deserved one of the best restaurants in Hue that you can try for your holiday in this ancient capital city.
Address: 40 Pham Ngu Lao street, Hue city
5. Ancient Hue Restaurant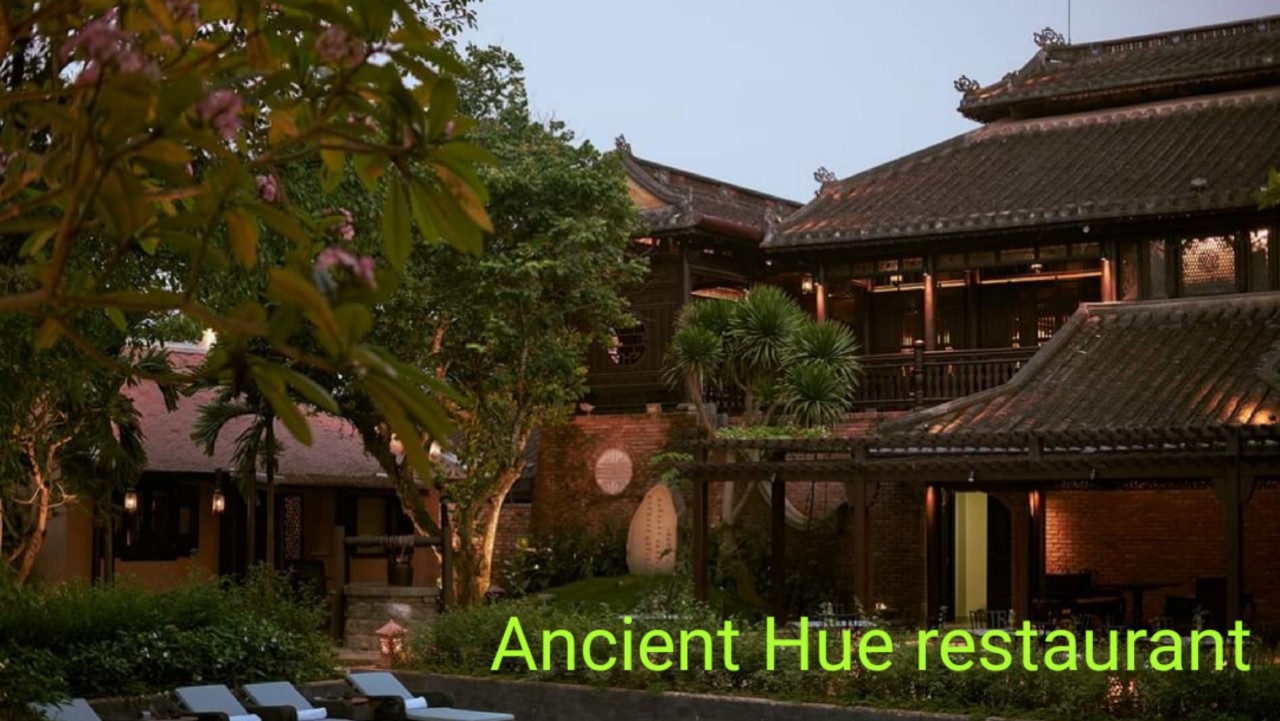 In the middle of the Hue Ancient Courtyard, which is in Phu Mong-Kim Long village near Linh Mu Pagoda, are copper urns, ancient wells, lotus ponds, and five old houses that date from the 1800s and early 1900s. This is Ancient Hue Restaurant.
The harmony in the architectural layout of this complex recreates the glorious past of Hue and gives diners the deepest feelings about an ancient Hue.
With a seating capacity of more than 300, Ancient Hue restaurant can provide elegant meals, tea parties, weddings, and traditional cultural experiences to Hue's most discerning diners and foreign visitors through the historical structures and royal music and dancing performances. Tourists will not forget Ancient Hue restaurant when visiting Hue city.
Address: 104/47 Kim Long street, Hue city
6. Moc Vien Restaurant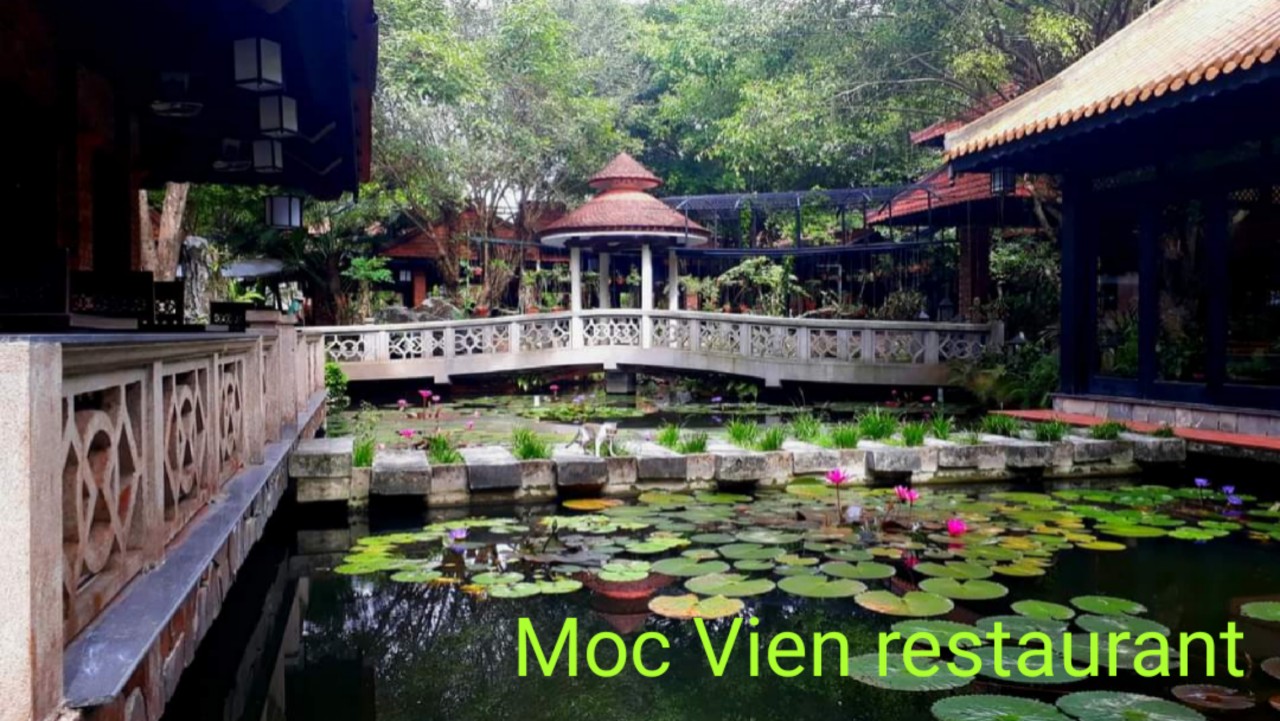 In the center of Hue, at the Moc Vien restaurant, you can experience the distinctive Vietnamese-Japanese culinary culture. Moc Vien is conveniently situated near Hue's main tourist route and is only a 2-minute drive from Tu Duc Tomb.
Moc Vien's dining room is roomy, elegant, and romantic. The building of the restaurant makes it clear that the owner put all of his thoughts and emotions into every stone and treetop, which is how Moc Vien came to be finished and functional as it is now. The lakes that have grown up around this area make it even more lovely and poetic.
Address: 2E Hoai Thanh street, Hue city
7. Madam Thu Restaurant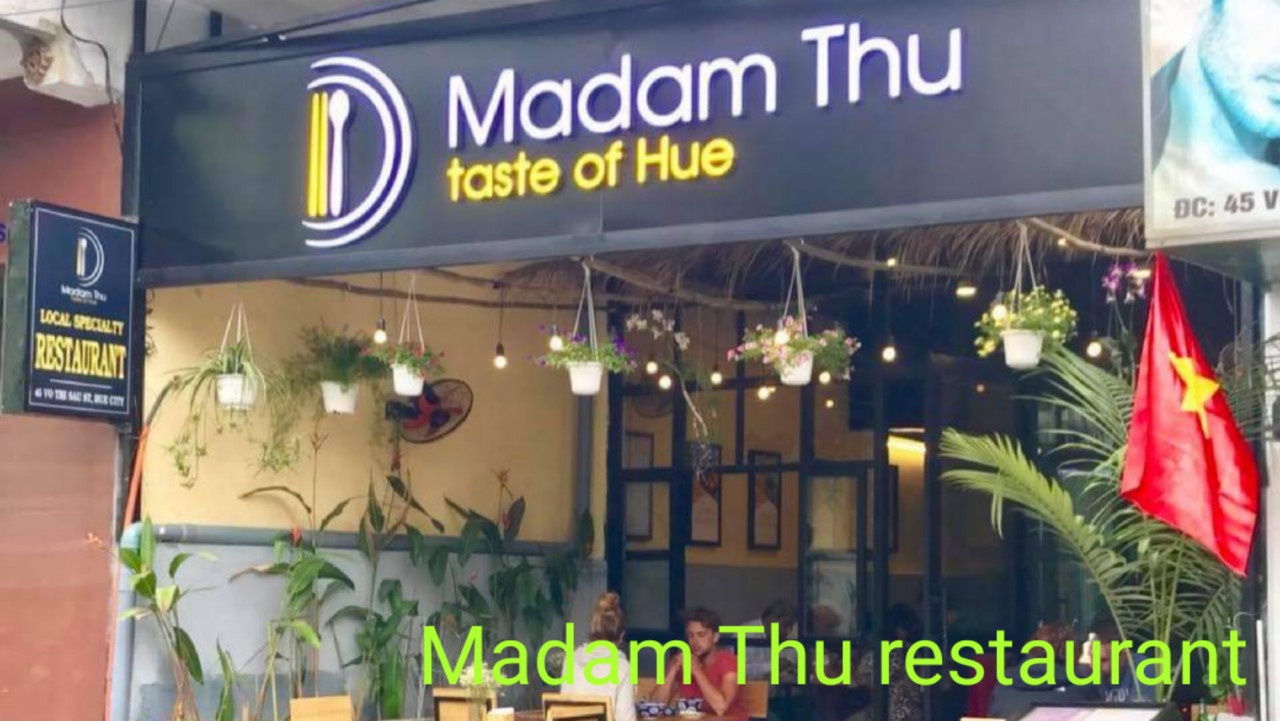 A neighborhood eatery called Madam Thu Restaurant can be found in Hue City's backpacker district. The name of the eatery is Thu who owns the restaurant. Madam Thu Restaurant will provide you with lunch and dinner along with some well-known Hue dishes like stuffed rice pancakes (Banh Khoai), grilled chopped pork (Nem Lui), grilled pork vermicelli, and fried spring rolls. Additionally, there are contemporary Asian and European meals available for tourists who aren't used to eating Vietnamese cuisine.
The ideal location for guests to taste cuisine with Hue flavors is at Madam Thu Restaurant, which is housed in a warmly designed and striking room in the center of Hue city.
Madam Thu is located at 45 Vo Thi Sau street, Hue city.
8. Bistro La Carambole Hue Restaurant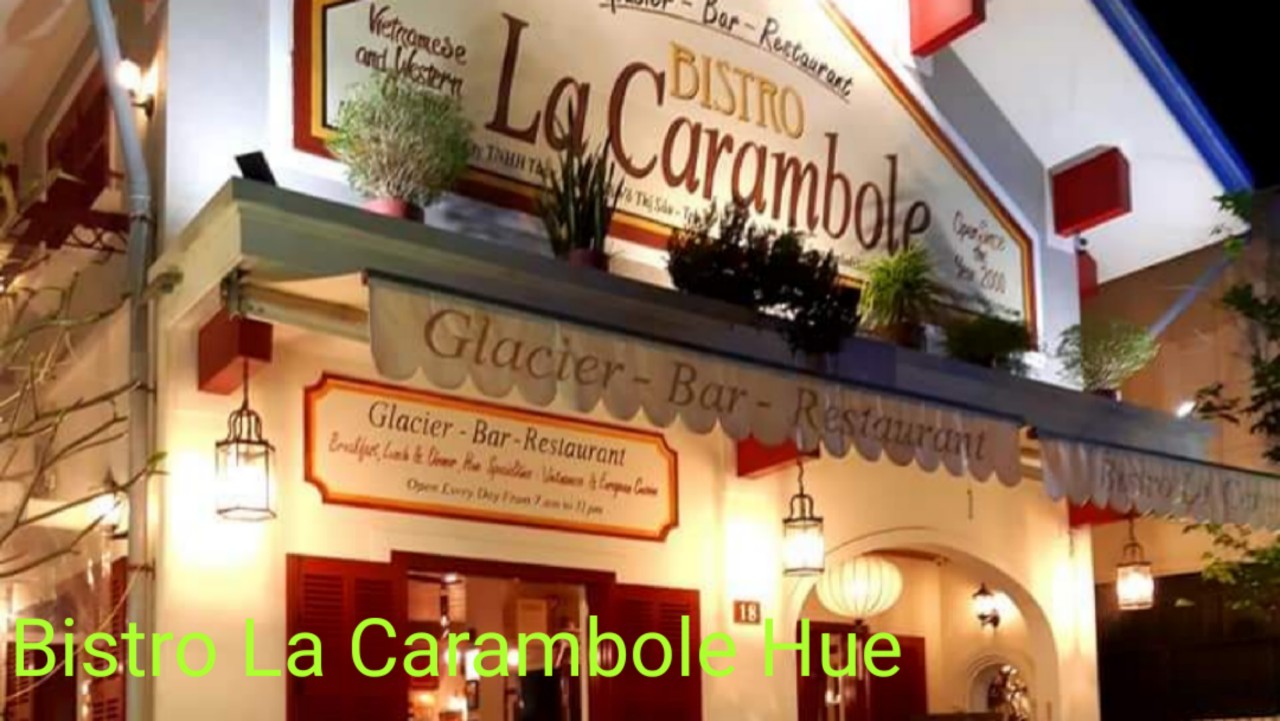 Famous European-style dining establishment Les Jardins de la Carambole is located 18 Vo Thi Sau street in Hue. French and Vietnamese cuisine are the restaurant's area of expertise.
The restaurant draws many foreign visitors, and every one of them is pleased with their experience there. The restaurant consistently has a large crowd coming to enjoy Western cuisine, particularly beefsteak, is made with premium meats and served with potatoes, so the restaurant's prices are thought to be less expensive and more affordable than those at many other European eateries.
Address: 18 Vo Thi Sau street, Hue city
9. Thien Tam Vegatarian restaurant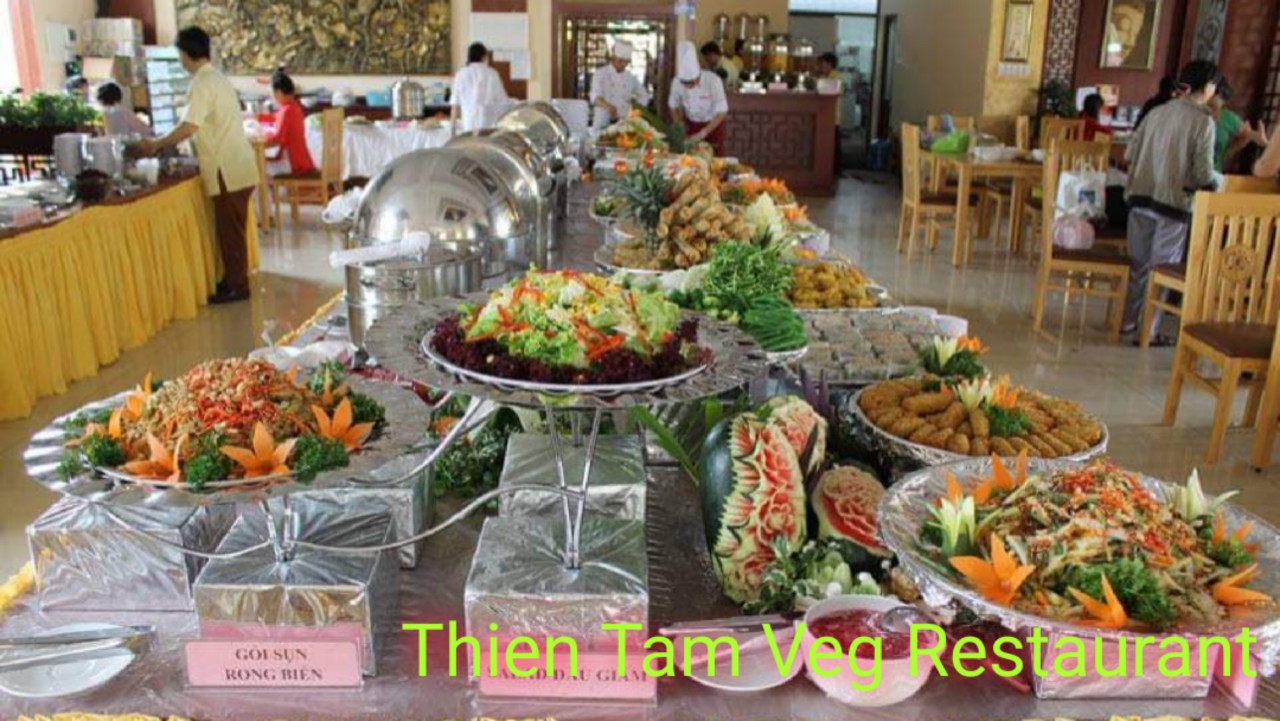 Over 100 items on the menu of Thien Tam Vegetarian Restaurant were expertly made by Hue chefs using skillful hands. In addition to traditional vegetarian foods such Hue cakes, mushroom porridge, mixed fried rice, corn rolls, mixed jackfruit, and mushroom hotpot, there are also royal vegetarian dishes like spring rolls and phoenix rolls.
Additionally, Hue offers you the chance to take in the painting and portrait-drawing processes as well as shopping for one-of-a-kind trinkets created by a variety of local artists.
110A Le Ngo Cat street, Hue city
10. Cozy restaurant Hue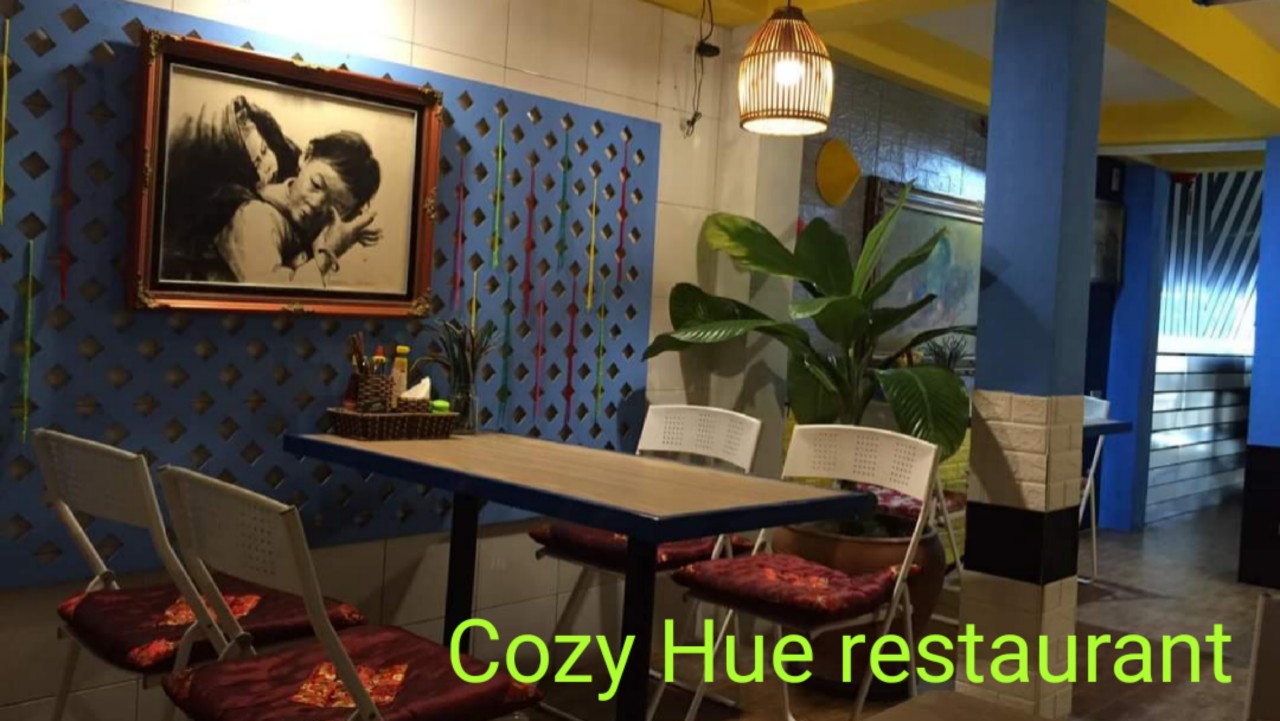 This is one of the best restaurants in Hue. They have Lovely attentive staff, The waitresses were very nice and the place really quiet and cute. Coming here, you will have a great experience, great food. good portions for a reasonable price.
The restaurant is located at 27 Hanoi street, Hue city.
BEST TRAVEL AGENT IN VIETNAM TO BOOK HUE TOURS?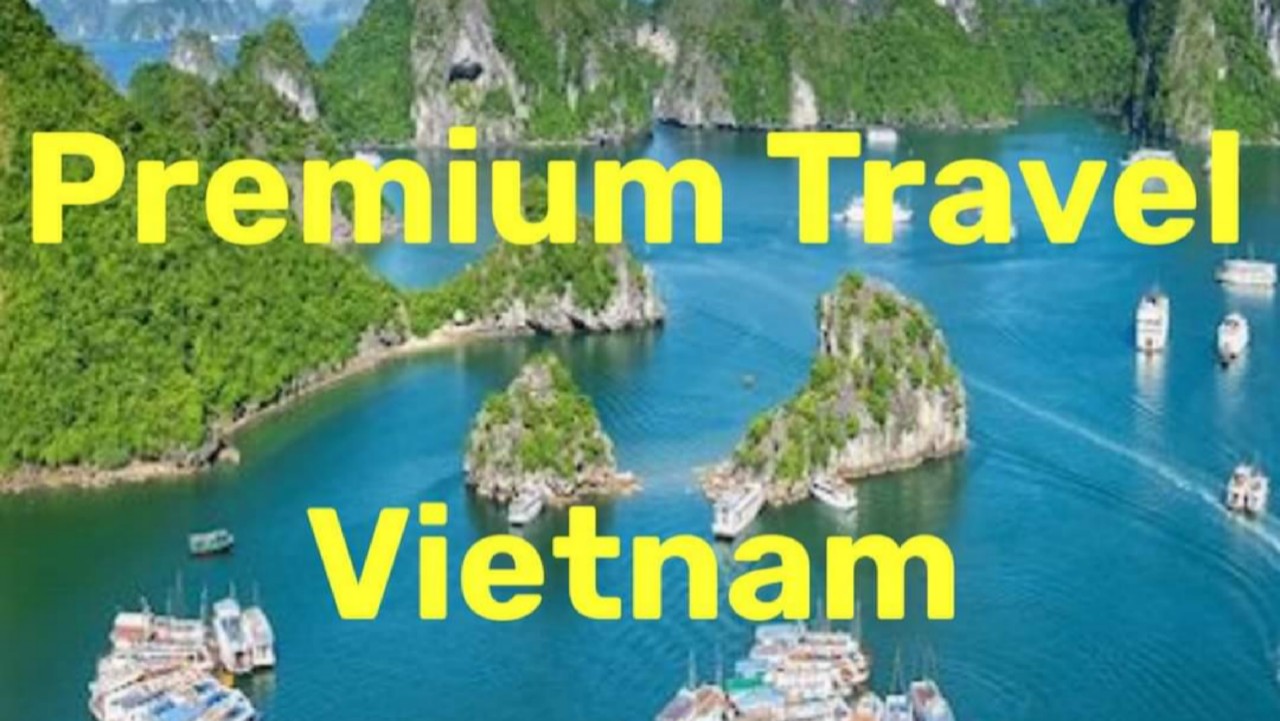 So, if you arrive in Hue city, and would like to find THE BEST TRAVEL AGENT FOR HUE TOURS, do not hesitate to contact us:
Premium Travel Vietnam Co., Ltd
Website: https://premiumtravel.info/tours
Email: premiumvietnamtravel@gmail.com
Whatsapp Mr. Viet at 0084 979613777
We will definitely make your trip with us an enjoyable one.
Categories: Blog