General
OVERVIEW:
As we all know, Nha Trang is one of the most beautiful cities in Vietnam. Thus, Nha Trang has a long white sandy beach and lots of beautiful islands which are suitable for adventure tours. Moreover, Nha Trang is the ideal place for snorkeling and diving tours thanks to it blue emerald water. Today, travelers come to Nha Trang by cruise ship not only visit some of historical places but they also want to find out about daily life and some of traditional jobs of the local people. To help you have a beautiful journey from Nha Trang port, Premium Travel Vietnam (PTV) organizes Nha Trang Vietnam Shore Excursions.

NHA TRANG SHORE EXCURSIONS ITINERARY: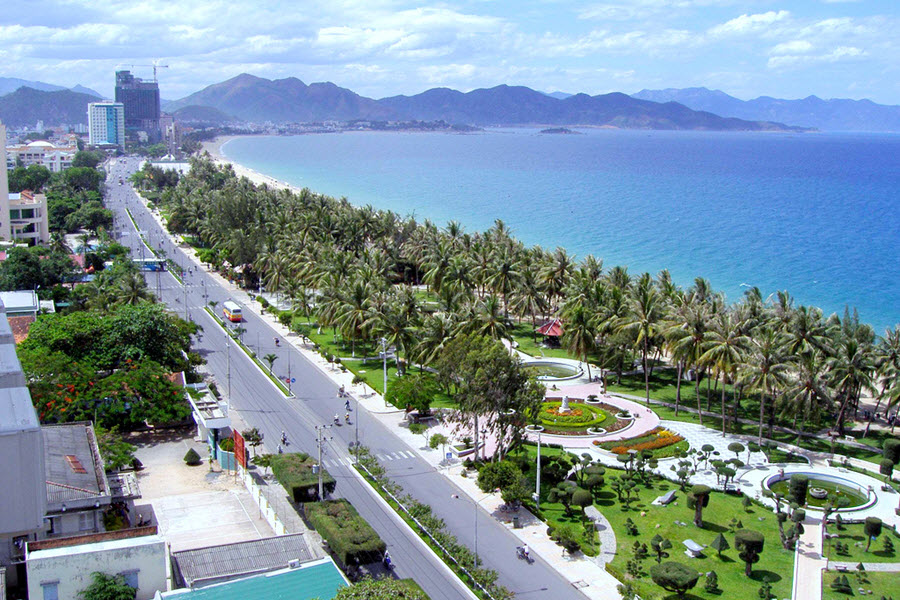 In the morning, the guide and driver from Premium Travel Vietnam will come and pick you up at Nha Trang port then we will then begin our journey. First of all, this tour will give you an insight into the Vietnamese culture by visiting Embroidary Factory. This is to show you how fascinating the life is as you directly witness the skillful hands of the villagers. So, the local people will show you how to weave the mats by using rushes that grow in surrounding areas. Of course, you can try by yourself.
The next stop in our tour is Inspirational Pagoda School. This is the home of homeless children taken care by Buddist nuns and monks. You will realize how they live and find out more about Buddism in the country. This is a lovely place with 68m high Amitabha Buddha Statue.
To continue our Nha Trang Vietnam Shore Excursions, we then visit a Rice Paper making factory. This is truly amazing as you will know more about our Wet rice farming industry in the country. Hence, you will see how we graind rice into fine powder, then making a mixture then pour it on steamed hot cloth, covering by a cap and it will be already after just few minutes.
Our next spot of Nha Trang Vietnam Shore Excursions is Conical Hat making house. You will admire talented skillful hands of the Vietnamese women, all manual work. You can buy a gift for your friend when heading home. This hat is really typical and useful that you can see all over of Vietnam.
Finally, we then transfer you to Dam Market for shopping. You can buy some of local gifts for your friends and family.
Ending the day, we then transfer you back to the port and our Nha Trang Vietnam Shore Excursions is coming to and end here. We wish you had the best time and sweetest memories with us.
WHY DO YOU CHOOSE SHORE EXCURSIONS NHA TRANG CITY?
When booking this tour with PTV, you will have an impression of the local culture, admiring the skills of the local people, enjoying the atmosphere of the local life that you never see in your life. Fascinating by the beauty of this coastal city, you will have memorable memories.
NHA TRANG PRIVATE SHORE EXCURSIONS Price?
We have different quotes of prices for different Nha Trang Shore Excursions. You either choose Nha Trang City Tour, Nha Trang Traditional Handicrafts Tour or Nha Trang Island Tour…They are all Private Shore Excursions from Nha Trang port. So, please send an email to us at premiumvietnamtravel@gmail.com, or Whatsapp Mr. Viet (Travel Manager) at mobile number 0084 979613777. We are honored to serve you and together we make it the best cruise excursions for you.
Tour inclusion
Tour exclusion
– 4 – seat private car with air conditioning

– Experienced driver

– English speaking guide

– Entrance ticket

– Cold water and wet tissue

– Lunch

– Travel insurance

– Other expenses

– Soft drinks and beverages

– Tips and gratuities

Things to bring
Travel tip

-Fully charged camera; Sun cream; Climbing shoes; Caps/hats; Sun glasses; Insect spray; Shoulder covers

In months of October, November, December, January, February; it normally rains in Hue, let's bring rain coats with you. For the rest of the year, it is usually hot and humid.
Remarks
Tour departs from Nha Trang port or any seaports in Vietnam if you book in advance. We will try our best to arrange the tour at the best of your requests.
Children policy
FOC for children under 5 years old
50% charge for children from 6 to 12 years old
Full charge as adults for children over 12 years old
HOW TO BOOK NHA TRANG CRUISE EXCURSIONS?
So, if you come to Nha Trang city, Vietnam and would like to find a professional travel agent with best services for Nha Trang Vietnam Shore Excursions, do not hesitate to contact us:
Website: https://premiumtravel.info/tours
Email: premiumvietnamtravel@gmail.com
Whatsapp/Viber at 0084 979613777
We highly respect your choice and make your Nha Trang Cruise Excursions a special one.