General
OVERVIEW: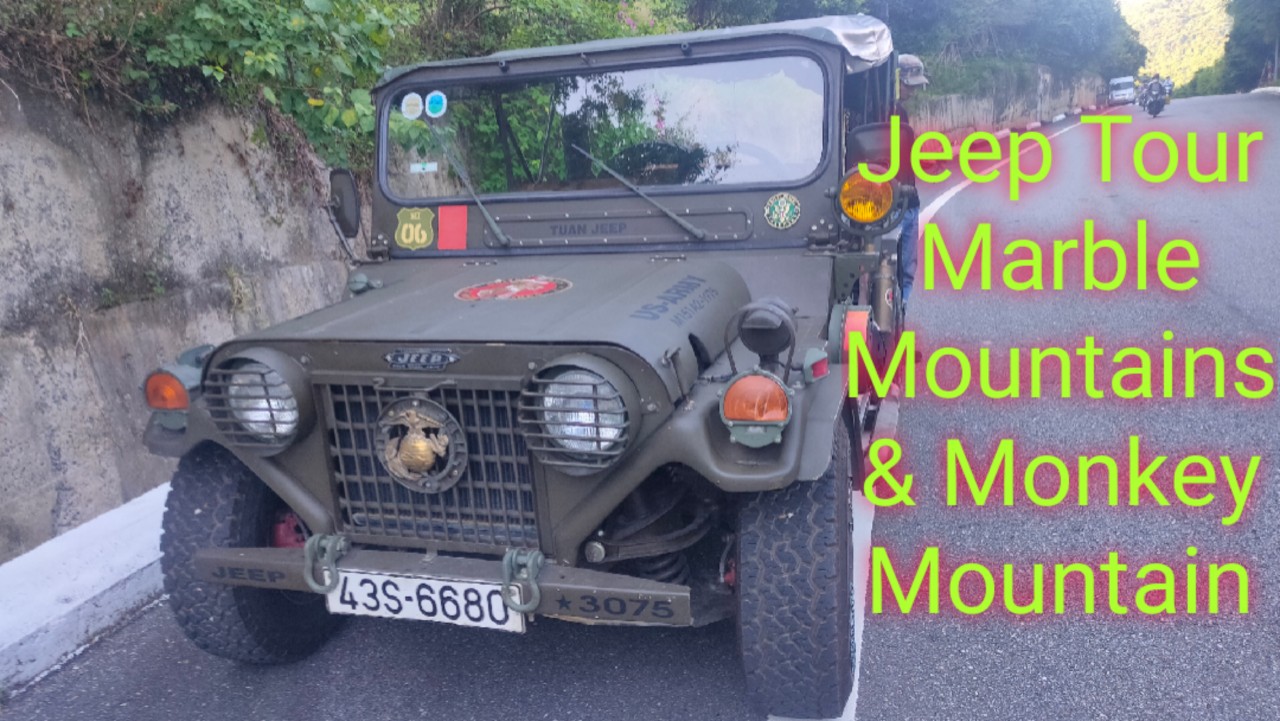 Da Nang, Vietnam's fourth largest city, is situated midway between Hanoi, the country's capital, and Ho Chi Minh Metropolis, the country's largest city. It is also a commercial, tourist, and educational hub. Da Nang was named one of the world's top 10 worth-living towns in 2018 by the renowned travel magazine Live and Invest Overseas. It has long been regarded by locals as the most worthwhile place to live in Vietnam. It also strengthens Da Nang's position in the global tourism sector. Da Nang is just beautiful with many attractions such as Marble Mountains, Linh Ung Pagoda, Cham Sculpture Museum, Ba Na Hills Golden Bridge…Moreover, it owns some of the nicest beaches in Vietnam like Non Nuoc Beach, My Khe Beach, Thanh Binh Beach…
So, there are few ways to discover Da Nang city, one is to uncover the hidden charm of the city by Jeep Car. In order to help you explore two beautiful sights in Da Nang by Jeep Trip: Marble Mountains and Monkey Mountain, Premium Travel Vietnam (PTV) provides you with Jeep Tour to Marble Mountains and Monkey Mountain.
MARBLE MOUNTAINS MONKEY MOUNTAIN JEEP TOUR ITINERARY: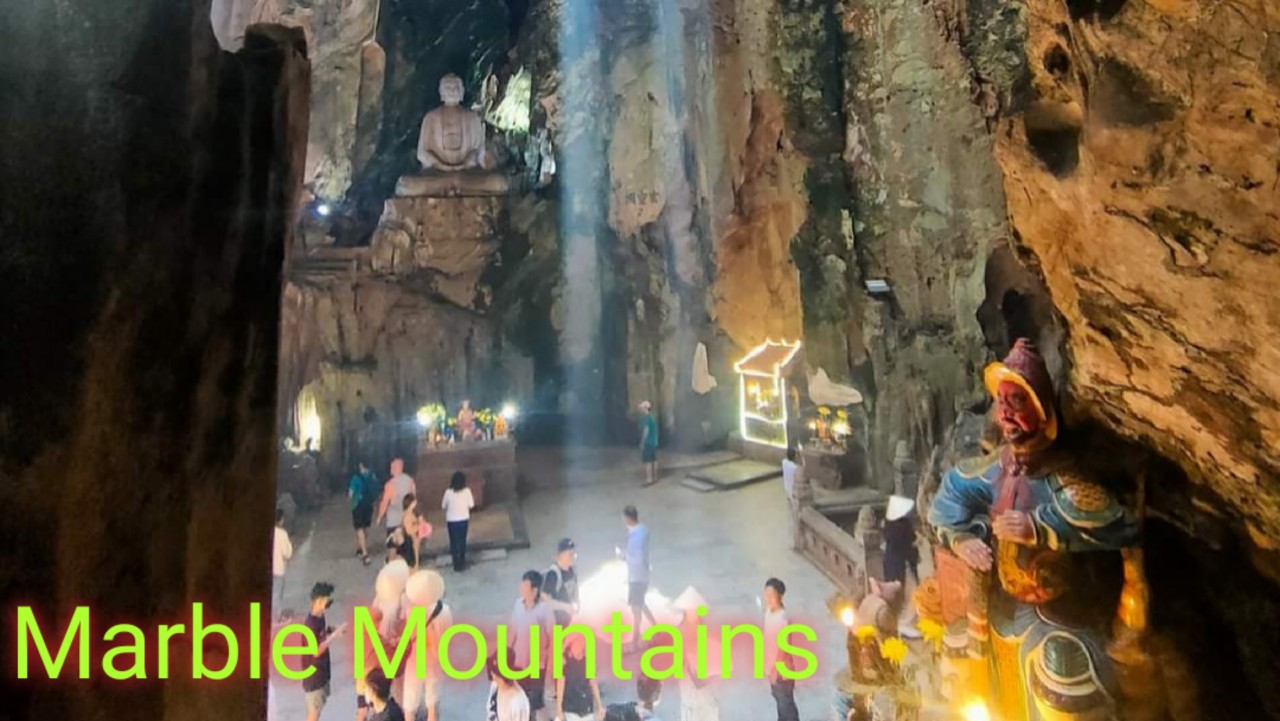 To begin the trip, in the morning we come to collecy you at the hotel in Hoi An/Da Nang and we are then first heading to Marble Mountains. This is one of Da Nang's main tourist spots. This site has a total of 5 marble peaks that symbolize for 5 elements in Oriental ideas: Water, Wood, Fire, Metal and Earth.
Marble Mountains now have lots of Buddist temples and sanctuaries built dating back long time ago. The place attracts lots of foreign visitors coming everyday.
On arriving, we can visit one of marble carving factories at the foot of mountain (optional). Then we will take the lift up and then stroll around the mountains and visit Xa Loi Pagoda, Linh Ung temple, Tang Chon and Van Thong caves. Walking through the cave to reach the top, you can have a whole view of Non Nuoc beach. The following is another visit to Huyen Khong cave that was formerly hospital for soldiers and the local people in the war. The cave is quite stunning with all smoke and incense mixing up with sunlight. All create a solemn atmosphere for everyone when they are coming to this spot.
To finish up the tour, we then climb up to have river viewpoint at river watching tower built by the Emperor in the old days. From this, you can grab a panoramic view of the whole area.
After that, we walk back down and then we keep driving to Monkey Mountain in Son Tra Peninsula. This beautiful mountain is known as green lungs for Da Nang city. In the rainy season, this is like a screen to protect the city and its people.
The highest point of Monkey Mountain is 850m high. This mountain is home to approximately 400 Red Shanked Langurs which are listed on Red Book of Vietnam.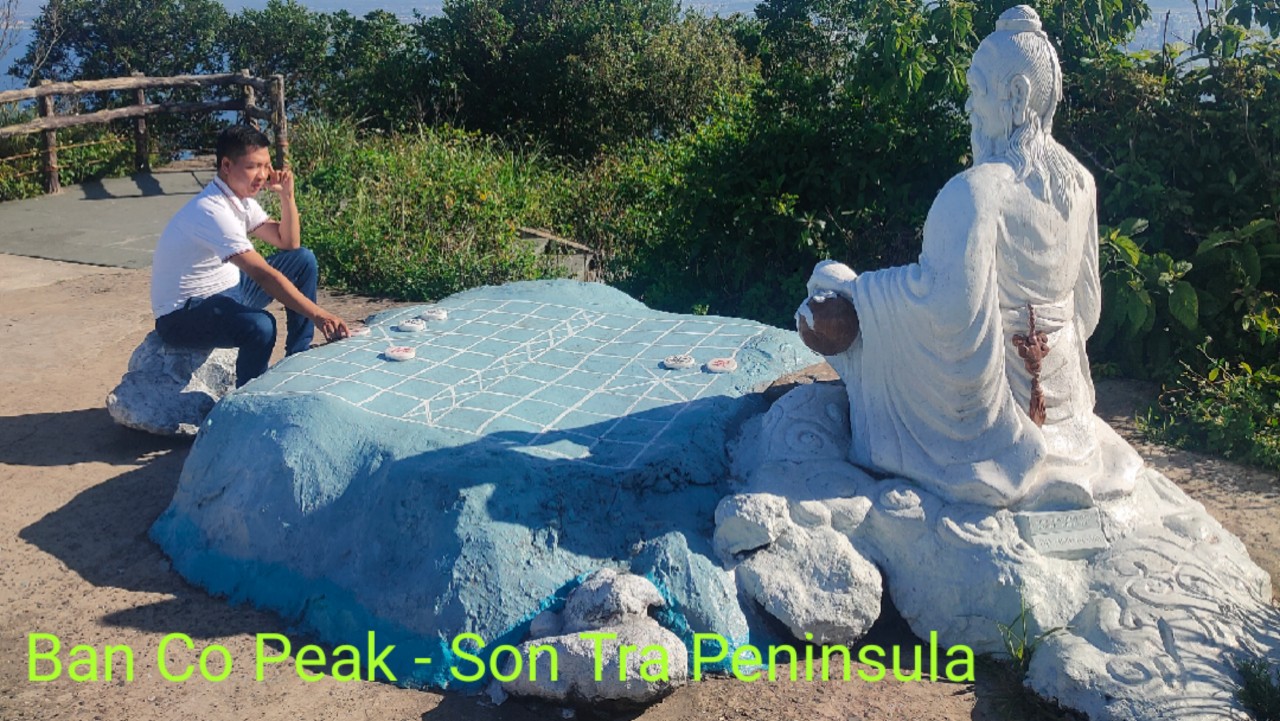 On arrival, we are driving up the Monkey Mountain and visit a viewpoint on the way. From this scenic spot, you can see Da Nang Bay a far. To continue our jeep trip, we keep following a paved trail and visit former American helicopter base. And then followed by a visit to Ban Co peak where the guide tells you legendary story about that name. From here you can see beautiful coastal Da Nang city with all high rises and even the Han river with all bridges across.
Going down the hill, we stop en route for you to take pretty pictures of Langurs who are jumping up and down, from one place to the others. You can see how nice they are!
Before finishing up the tour, we then drive to visit the highest Lady Buddha statue in Vietnam (67m high). This big complex was built in 5 years and became the most attractive place in Da Nang. It receives lots of tourists from all over the place who come and pray for best wishes everyday.
At arriving here, we will wander around and visit Goddess of Mercy statue. She is looking at us to help us out. By the way, she can come and help those fishermen in need in the stormy season. Next, we come and visit Linh Ung Pagoda that strongly has Chinese influences with all designs and decorations. In the same time, you can take just amazing pictures of bonsai trees in the garden.
Evetually, our guide and jeep drivers will come and directly transfer you back to the hotel. We will end our Jeep Tour to Marble Mountains and Monkey Mountain here.
In addition to organising this tour, PTV also arranges Jeep Tour to My Son Sanctuary, Jeep Tour from Hoi An to Hue, Jeep Tour to Phong Nha cave. Let's contact us for more details.
HOW YOU ENJOY JEEP TOUR SON TRA MONKEY MOUNTAIN DA NANG?
So, if you are joining with Premium Travel Vietnam for this trip, we will help you out explore beautiful Da Nang city with all white sandy beaches at My Khe beach. First, we adventure ourselves at Marble Mountains to visit the former hospital of the local people in Vietnam war. Thus, you will climb up to adventure some pretty caves and Buddist temples as well as some beach viewpoints at this lovely place. Next, we will discover green scenery landscape of Monkey Mountains of Da Nang, they are known as the green lungs of the city.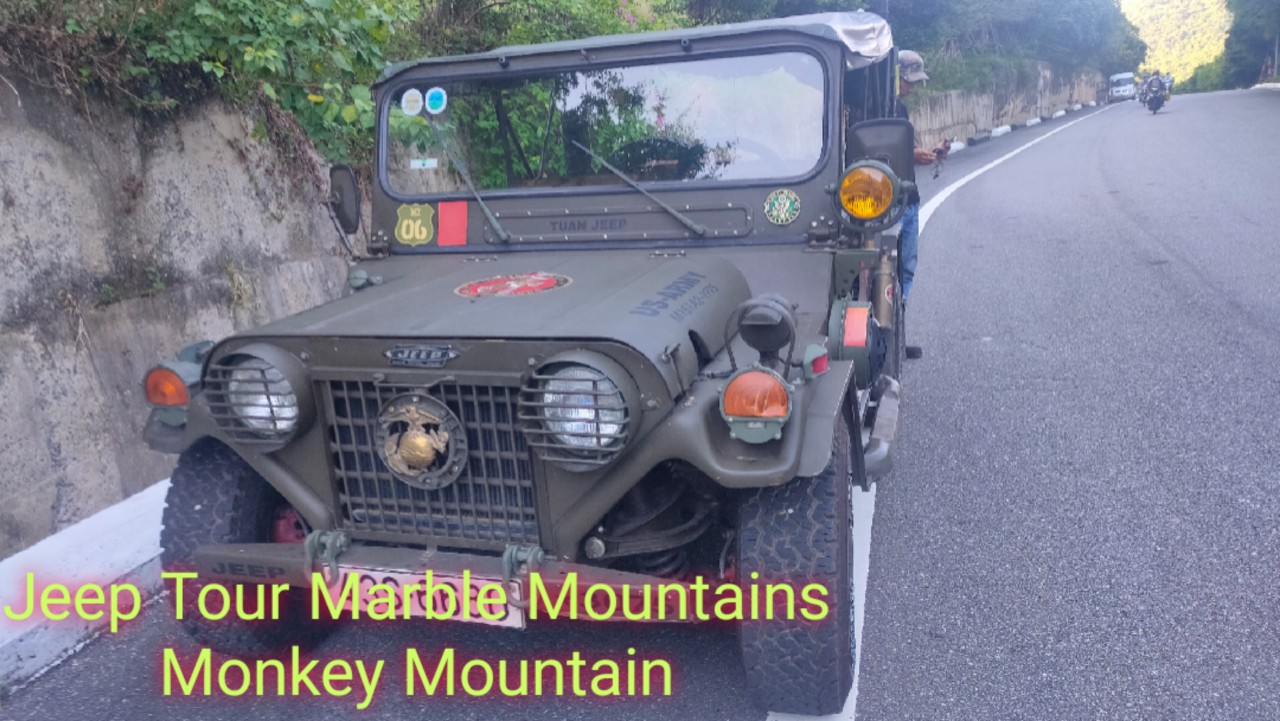 Upon reaching here, our Jeep Tour will show you around the off-beaten-track and see how the endangered animals Red Langurs live over here, then you can take some of your best pictures. Furthermore, you will also explore breathtaking view of Son Tra National Park that is 693 metres above sea level. Besides, take a chance to sightseeing American observation base during the Vietnam War, housing two radar domes that are now taken over by the Vietnamese military as well as a helicopter pad, which makes for a cool lookout point.
Finally, visiting the highest Kwan Yin statue in Vietnam (67 meters) and grab your spectacular view of Da Nang at this lookout spot. We surely provide you with exciting Jeep Adventure that you will ever have.
HAI VAN PASS SON TRA MONKEY MOUNTAIN JEEP TOUR Price, Tour Inclusion, Tour Exclusion?
PRICE
If you ever think of experiencing Jeep Tour Private Trip around Hoi An, Da Nang areas, let's choose Hai Van Pass Son Tra Monkey Mountain Jeep Tour. Because for a simple reason: explore the stunning landscapes of the nature in Da Nang City. Therefore, you have an opportunity to visit 1000 thousand year old Banyan Tree in Son Tra Peninsula, you will enjoy the verdant jungle trails and also find out the living of many rare species such as rhesus macaques, long-tailed macaques, pygmy slow loris, and red-shanked douc langurs. Next, you will discover stunning turns and sharp corners at Hai Van Pass with our Jeep. What a thrilling moment! Please send an email to us at premiumvietnamtravel@gmail.com, we will promptly response to you. Or contact us at Whatsapp at 0084 979613777. We are honored to serve you.
TOUR INCLUSION
Good condition U.S Jeep car
 Professional experienced driver
 English speaking guide
 Entrance tickets
 Cold water and wet tissue
TOUR EXCLUSION
Travel insurance
 Other expenses
 Soft drinks and beverages
 Tips and gratuities
NOTES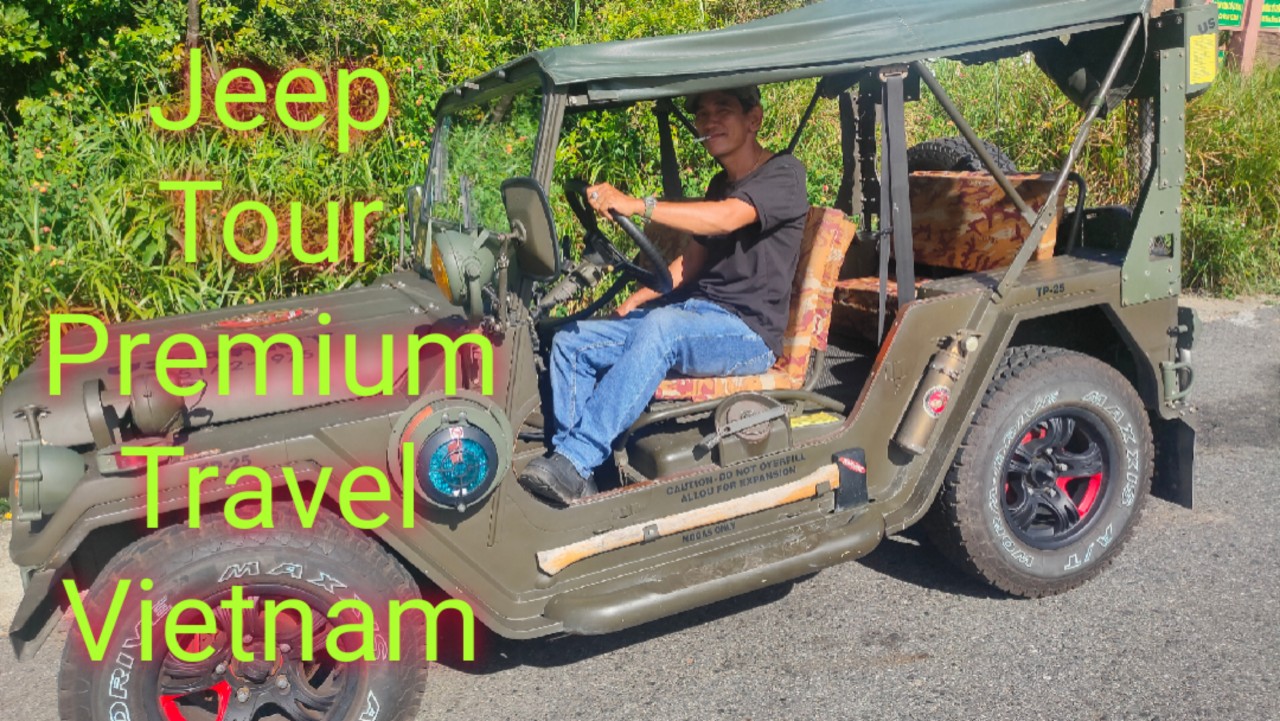 Things to bring
Fully charged camera
Sun cream
Climbing shoes
Caps/hats
Sun glasses
Insect spray
Shoulder covers
Travel guide
In months of October, November, December, January, February; it normally rains in Da Nang, let's bring rain coats with you. For the rest of the year, it is usually cool and humid.
HOW TO BOOK MARBLE MOUNTAINS MONKEY MOUNTAIN JEEP TOUR FROM HOI AN?
So, if you come to Hoi An or Da Nang and would like to find a professional tour operator with The Best Marble Mountains Monkey Mountain Jeep Tour from Hoi An, do not hesitate to contact us. We can arrange Jeep Tour pick up from any hotels, resorts, home stays in Hoi An. In addition, we also organize Private Jeep Tour and Group Jeep Tour upon your request, kindly contact us as follows:
Website: https://premiumtravel.info/tours
Email: premiumvietnamtravel@gmail.com
Whatsapp/Viber at 0084 979613777
We highly respect your choice and make your trip a meaningful one
Copyright by Phong Nha Pioneer Travel, see the original link here
TOUR REVIEW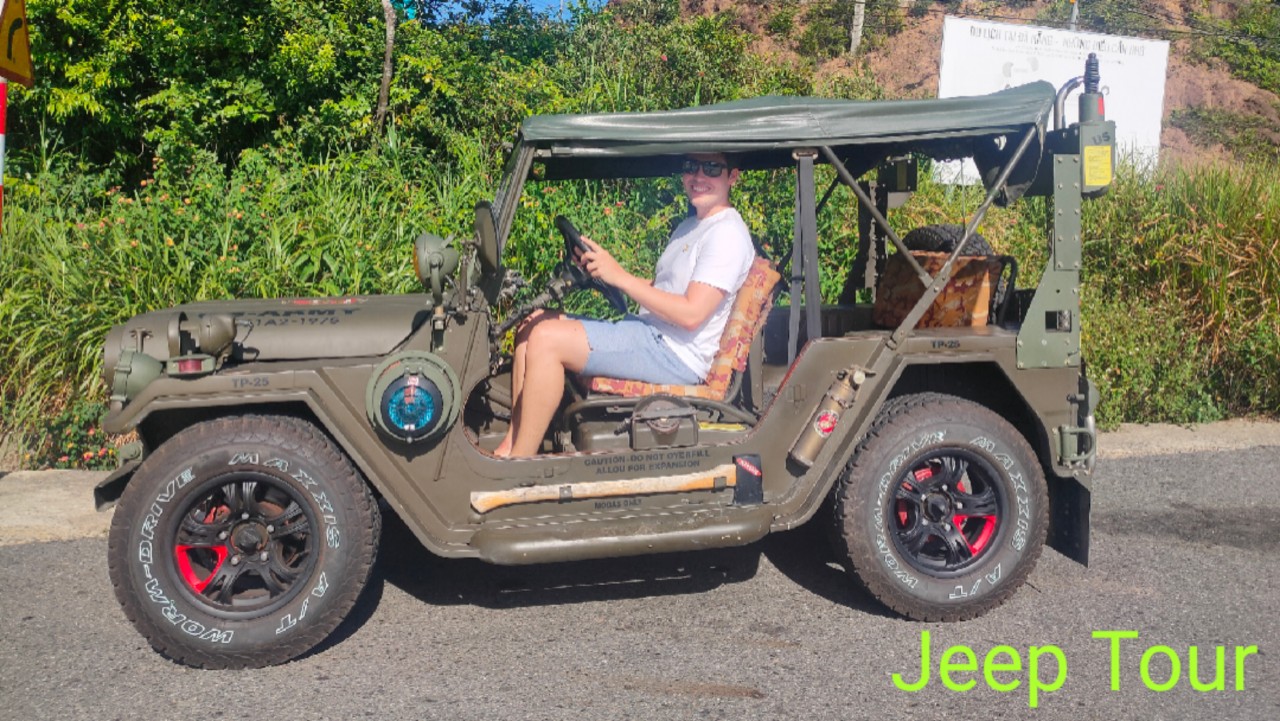 https://www.tripadvisor.com/ShowUserReviews-g298085-d12997047-r850140517-Premium_Travel_Vietnam-Da_Nang.html